Category: E-Commerce
What Affects the Final Cost of a Magento Platform?
If you own a store, development is a continuous investment. In a brick-and-mortar shop, you have to consider the location, the interior design, the atmosphere and how to attractively display a wide range of products and promotions. In the same way, an online store needs to consistently put technological development first.
In e-commerce, technology should be seen as an investment which puts customers and service maintenance in the forefront, ultimately allowing for the business to remain competitive in its market. In the end, that's what will determine the success of the business.
Remember, investing in an e-commerce platform pays in the long run, allowing your business to not only catch the competition but pass them by, with the flexibility to respond quickly with new solutions to an ever-changing market.
So what really affects the final cost of a Magento e-commerce platform for your online shop?
A Magento team that can get the job done! … the costs
Magento technology is an Open Source technology, which is available free of charge. Still it requires an experienced team of analysts, graphic designers, ux designers and programmers, who will be able to line up functionalities for your online store.
An experienced team not only has the technological solutions to your web store needs, they're a business-focused partner that can offer functional IT solutions to increase your e-commerce platform's efficiency and profitability.
An experienced team can work hand in hand with you to minimize project risks by quickly assessing potential threats and finding the best work around. The relationship is ultimately a joint effort to see your company's market success.
A team of experienced professionals provides more than just graphics, programming, project planning and execution, it can help you select the functionalities that will help set your site apart from the rest. In the end, it's not just the implementation of a project that makes it successful, it's the proper maintenance and selective technological upgrades that will define it.
A team like this surely has a price, regardless of whether it's a team inside your company or a reliable contractor, these services are expensive and affect the final cost of your e-commerce platform the most.
Retaining your own team of programmers to be available to focus on your IT projects is a convenient solution. However, maintaining this kind of team costs more than cooperating with an external IT firm. An external partner allows you to dynamically adjust the labor needed for each project, and frees you from having to plan projects and train, motivate and recruit those employees.
What are the underlying effects of technology that go unnoticed by clients?
Browsing products, selecting them and completing the purchase are common procedures in an online shopping experience. However, narrowly defining what makes an online shop an online shop is a mistake business owners sometimes make. Our role at WhiteLabelCoders is to be a partner that utilizes technology to create not only an online shop, but a multidimensional system that:
→ is the basis for fast and efficient operation of an e-commerce platform, both today and in the future
→ is a place where customer satisfaction is a constantly evolving experience
→ is a way to be competitive in the market and foster an environment for generating real profits
The value of such a well developed platform, such as Magento, boils down to more than just the number of functionalities added to an e-commerce site. It's important to develop this platform in a way that caters to a breadth of business areas, guaranteeing financial success.
This is the description of a project's scope involves gathering answers to critical questions about the size and scale of the business, in turn leading to the creation of technical documentation describing the functionality of your store and defining your business practice. Some of the questions WhiteLabelCoders often asks during one of our day-long workshops are:
what is the business's target group?
are you going to use any modules from the existing system? what elements of the old system need to be migrated?
how many products will the shop offer?
should any product groups be singled out, e.g. products with a large profit margin?
where are stock levels (ERP) managed?
does the platform need to integrate with other systems (what systems)?
what is the relationship with shipping services like?
how do you want to arrange order processing, invoices and automated notifications?
which parts need to be automated and which do not – what are the payment methods?
what is the reach of the business (local, global – language versions)?
what sales and marketing tools does the business need (promotions, mailings)?
what content is on the platform (product description, tips …?)
With a thorough description of the desired functionality for your online shop, we can use the technical capabilities Magento has to offer to fulfill your business needs. We help you justify the costs of taking on a new e-commerce project by utilizing complex technological solutions that allow you to simply reach your business vision.
Testing, implementation, and training
Testing the scope of the project is not a separate stage, rather an ongoing feature of the project that receives added attention leading up to the launching of the final version. Depending on the size of the e-commerce platform, testing before implementation can last from several days up to several weeks. At WLC it's performed by dedicated testers.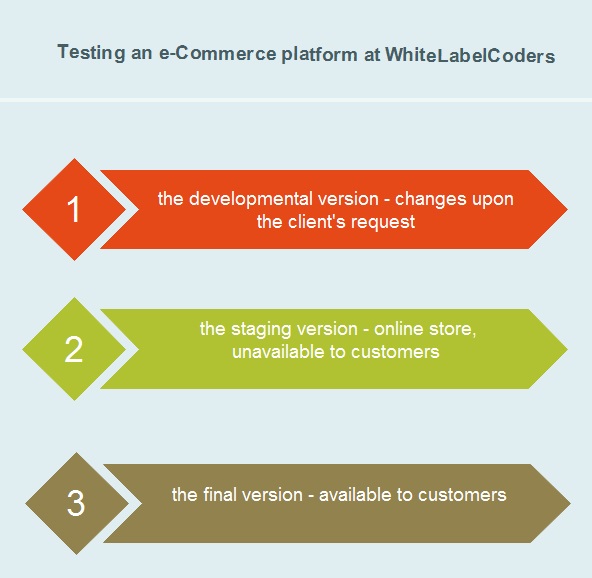 In the first two stages, testing takes place in a closed environment where final decisions on the Magento platform can be made. Following that, customer traffic is redirected to the new online shop. This approach reduces the risk of errors that come up when so many programmers' responsibilities overlap on a single project. During testing and implementation, we also organize employee trainings, consultation and support for your staff.
How do you choose the best host for your e-commerce platform?
A Magento online shop is a complicated system that needs adequate hosting to work properly. The basic requirements include adequate data transfer speeds, scalability of platform solutions, access to testing environments and automatic system backups. The most commonly recommended hosting solution for Magento platforms is Amazon Web Services (AWS).
Amazon Web Services is a leading provider of cloud-based hosting services. It can help you optimize your Magento store by increasing both the speed and efficiency of your website. Slow loading websites, payment violations and crashing will adversely affect your current business, as well as, scare away potential customers.
With AWS, it's assured that your Magento store will be able to cope with your business's ongoing development – and grow with it.
Get to know all the advantages of AWS
Reliability – access to your shop is guaranteed 99.95% of the time
Affordability – only pay for the services you use
World Class Quality – the best database infrastructure available
Security – built-in firewalls, encrypted data storage, and private subnets
Scalability – it easily adapts to your changing business needs.
Hosting costs are also part of the design and maintenance of an online store. In the long run, selecting the right provider will prove to be one of the most important decision you make.
Continued Platform Maintenance
The ongoing operation of e-commerce platforms involves an increasing number of products and customers, active sales support mechanisms, parallel platform optimization, server adaptations and changes in functionality.
Platform maintenance guarantees the organic development of new functionalities and optimization of the operating system. This process allows for a business to respond to its customers and confirm its initial aims.
This is why the completion of a Magento project doesn't end when the store is opened to the public. Rather, it's an investment that requires the owner to consistently improve customer experience, so that the businesses sees growth in both profitability and customer satisfaction.
Continued Platform Maintenance
If your company is looking for IT solutions that will ensure the success and development of your business, then consider cooperation with an external development team.
Companies whose business success depends on effective IT solutions need to be based on efficient IT systems, the same or better than their competitors, but that does not mean that they must develop them in their own team.
Such companies use remote development teams, white labels companies, like White Label Coders.
They focus on business development, focus on priorities, and leave IT technology to experts. Without having to invest in an internal, specialised team of developers, they achieve business goals based on technological systems, in cooperation with technological partners they can rely on.