Category: E-Commerce / WooCommerce / WordPress
Best plugins for WooCommerce in 2023. For every seller!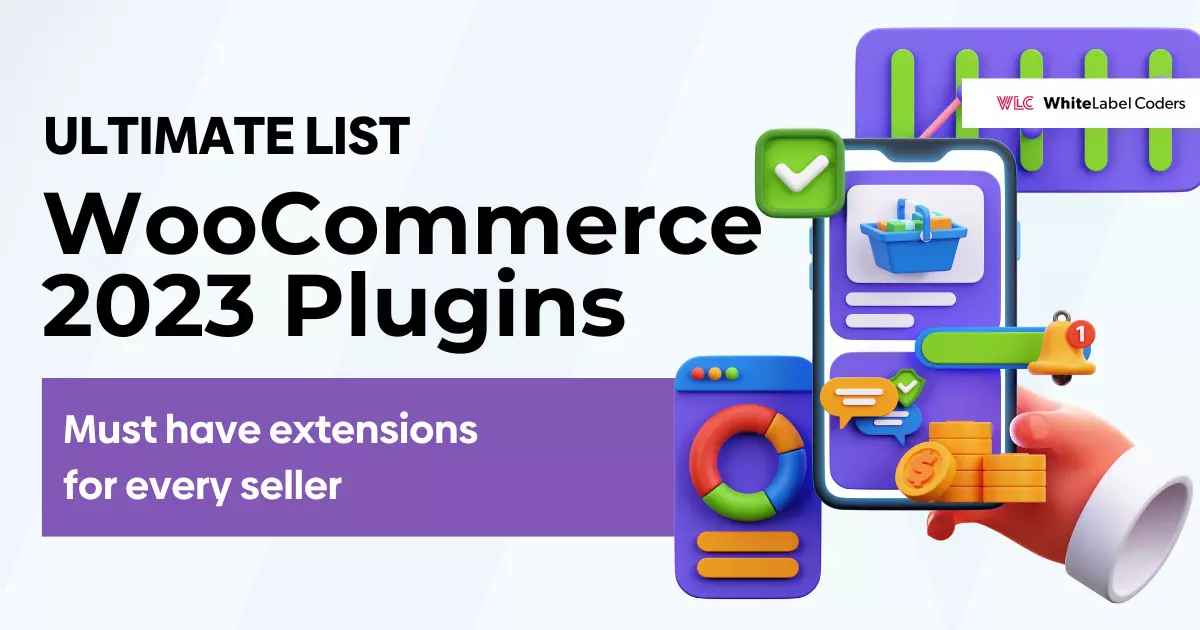 Starting and growing a successful online business is not an easy task. But most of the problems can be solved with various plugins. The more, WooCommerce offers a huge abundance of them. That's why we would like to present you the White Label Coders' choice of best WooCommerce plugins which make the life of every store owner and developer much easier.
The following selection of WooCommerce extensions will help you to:
Manage all sorts of discounts and dynamic prices
Make mass changes to various product features in a much more convenient way
Provide quite extensive statistics
Manage affiliate programs in a very convenient way
Optimize your store conversions
Integrate a live chat to communicate with your customers
Boost your sales through marketing
PW WooCommerce Bulk Edit
PW WooCommerce Bulk Edit is a powerful tool that offers a quick and easy way to bulk edit product attributes on your WooCommerce site. The plugin provides flexibility and efficiency in managing your store's assortment, allowing you to instantly make changes to all your products at once.
Key features:
Mass edit: Make changes to as many products as you want at once. You can edit attributes such as title, description, price, stock, categories, and more.
Filtering: Advanced filtering options allow you to quickly find and select products for editing by specific criteria.
Security: All changes are first presented on the preview screen before they are permanently entered into the database.
Flexibility: Percentage editing, fixed values, adding/deleting values – these and many more capabilities are offered by PW WooCommerce Bulk Edit.
Support for custom attributes: PW WooCommerce Bulk Edit supports both default and custom attributes for WooCommerce products.
With PW WooCommerce Bulk Edit, managing products in your store will become faster, easier, and more efficient. Whether you run a small business or manage a huge online store, this plugin is an indispensable tool for any WooCommerce store owner.

AffiliateWP
AffiliateWP is a high-quality, full-featured plugin for managing affiliate programs on your WordPress site. It is an intuitive and extremely scalable tool that allows you to increase your reach and sales by motivating affiliates to promote your products or services.
Key features:
Easy installation and integration: AffiliateWP will easily integrate with popular e-commerce plugins such as WooCommerce, Easy Digital Downloads, and many others.
Partner Management: Monitor, record and manage your partners, their compensation, and activities from one central location.
Real-time reporting: Track the effectiveness of your affiliate program with detailed reports and statistics.
Automatic commissions: set up automatic commission payments to your affiliates to automate the program management process.
Forms integration: AffiliateWP integrates with popular forms plugins, allowing you to easily add new affiliates and track conversions.
Multi-site support: You can easily run your affiliate program on multiple sites with WordPress multi-site support.
AffiliateWP is the perfect choice for any business that wants to develop and manage a successful affiliate program. With its ease of use, versatility, and powerful features, AffiliateWP allows you to maximize your profits and reach no matter the size or nature of your business.
Thrive Suite By Thrive Themes
Thrive Suite By Thrive Themes is a comprehensive set of tools designed to create and optimize website conversions on WordPress. This innovative plugin is packed with features and tools to help you create attractive and effective websites that convert visitors into customers.
Key features:
Thrive Architect: A powerful drag-and-drop page editor that lets you create beautiful pages without coding.
Thrive Leads: A lead generation and mailing list-building tool with advanced targeting and A/B testing features.
Thrive Quiz Builder: It allows you to create quizzes that help increase engagement, collect data, and generate leads.
Thrive Apprentice: The ideal tool for creating and selling online courses directly on your website.
Thrive Theme Builder: An intuitive WordPress theme builder that allows you to personalize every aspect of your site.
Thrive Ovation: It automates the process of collecting and displaying testimonials, which increases the credibility of your site.
Thrive Optimize: An add-on to Thrive Architect that allows you to run simple A/B tests on your site.
Thrive Suite By Thrive Themes is a comprehensive website-building tool that is a must-have for any marketer, business owner, or blogger. Thanks to it, you can easily and quickly create pages that are optimized for conversions, leading to more traffic, leads, and sales.
Advanced Coupons
Advanced Coupons is an advanced coupon management plugin for your WordPress store. It is a highly functional tool that provides you with full control over promotions and discounts while offering simplicity of use.
This plugin offers a variety of features that will allow you to create any type of coupons, from percentage discounts to gifts for purchases of a certain value. Advanced Coupons also gives you the ability to set specific conditions, such as the expiration date of the coupon, minimum order value, or restriction to specific products or categories.
In addition, thanks to the BOGO (Buy One, Get One) feature, you can create attractive "buy one, get another free" promotions. The plug-in also enables advanced promotion planning, allowing you to set promotion start and end dates in advance.
Advanced Coupons is not only a powerful marketing tool, but is also easy to use, thanks to its intuitive user interface. An integrated tracking tool allows you to monitor the effectiveness of individual coupons, which helps you optimize your sales strategy.
All in all, Advanced Coupons is an essential plugin for any WordPress store that wants to increase sales and customer satisfaction with effective and attractive promotions.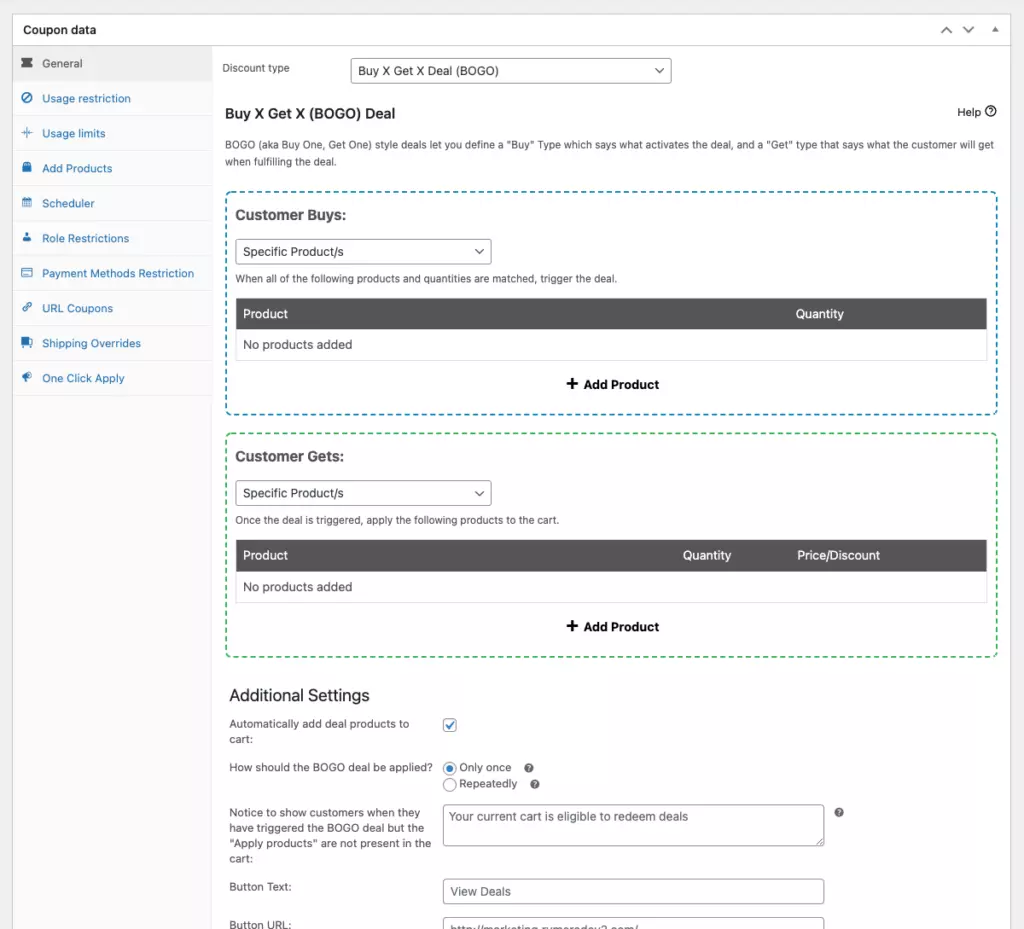 LiveChat
LiveChat is a powerful and highly intuitive plugin to support live chat on your WordPress website. This plugin allows you to make direct, instant interactions with users visiting your site, which is crucial for increasing customer satisfaction and boosting conversions.
Key features:
Simple installation and configuration: LiveChat is easy to install and can be easily configured according to your requirements.
User Interface: It is simple, clear, and user-friendly. It allows for easy navigation and efficient conversations.
24/7 Availability: LiveChat allows you to chat with your customers 24/7, helping to increase customer engagement and satisfaction.
Automated responses: LiveChat offers an auto-response feature that allows you to answer the most common questions immediately, even when chat operators are not available.
Analytics and reporting: LiveChat provides detailed analytics and reports to help you understand user behavior, manage your customer service team's activities and improve your customer service strategy.
LiveChat is an indispensable tool for any website or online store that wants to deliver high-quality, real-time customer service. Whether you want to increase sales, improve customer satisfaction ratings, or simply provide fast and efficient service, LiveChat is the perfect solution.
Beeketing for WooCommerce
Beeketing for WooCommerce is an advanced, multi-functional marketing plugin designed specifically for online stores running on the WooCommerce platform. The goal of Beeketing is to automate marketing, increasing conversions and profits from your online store.
Key features:
Marketing automation: Beeketing allows you to set up automated email campaigns that are sent to customers based on their behavior, allowing you to build long-term relationships and increase customer loyalty.
Conversion optimization: With advanced upselling and cross-selling techniques, Beeketing helps increase the average shopping cart value. The plugin also offers various conversion optimization tools, such as pop-ups with discount codes and dynamic product suggestions.
Product management tools: Beeketing provides simple and effective product management, enabling you to create product sets or hide low-availability products, among other things.
Data analysis: Beeketing provides detailed data and analysis on sales, customer behavior, and the effectiveness of marketing campaigns, allowing for continuous optimization of strategies.
Beeketing for WooCommerce is a powerful e-commerce marketing automation tool to increase sales and customer satisfaction. With an intuitive user interface and a wide range of features, it is ideal for any WooCommerce store, regardless of size.
ShopEngine – Elementor WooCommerce Builder Addons
ShopEngine is a powerful and versatile plugin that significantly expands the ability to create and personalize WooCommerce stores using the popular Elementor page editor.
Key features:
Modularity: ShopEngine includes more than 15 modules and over 60 widgets that allow you to fully customize your online store. Modules include features such as product list, single product, shopping cart, order, and more.
Compatibility with Elementor: ShopEngine is fully compatible with Elementor, which means you can use this editor's intuitive drag-and-drop interface to build your WooCommerce store.
Templates: ShopEngine offers access to a large library of templates that can be easily customized. This makes it quick and easy to create an attractive and functional online store.
Optimization for mobile devices: ShopEngine allows you to create stores that are fully optimized for mobile devices, which is key to delivering a great user experience on any device.
Multilingual support: ShopEngine is compatible with translation plugins such as WPML and Polylang, allowing you to easily create multilingual stores.
ShopEngine is an essential plugin for anyone who wants to create an attractive, functional and customized WooCommerce store using the Elementor editor.
If you're looking for a partner to set up your online e-commerce shop and you need andvanced integrations. Just give us a shout.