Category: E-Commerce
How to Choose an External IT Company to Implement a Magento Platform for Your On-line store?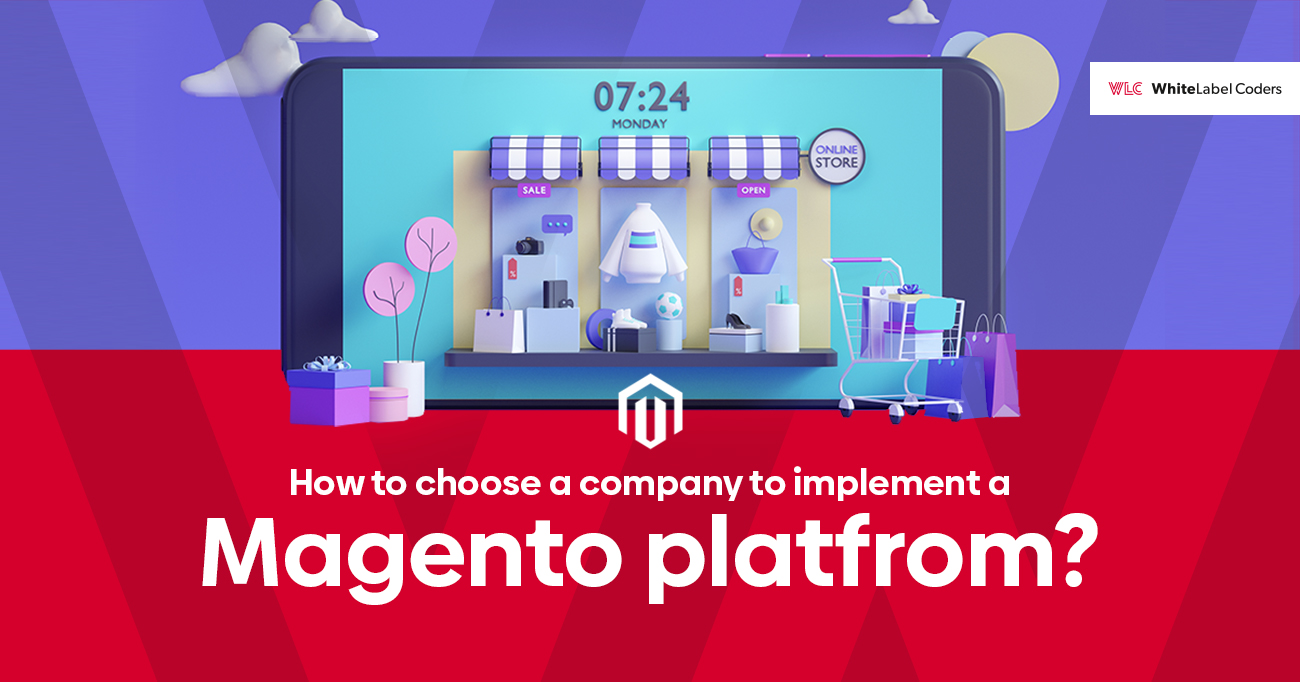 You already know, that your online store will be based on Magento technology. This is an important decision that will allow your company to compete in the market and give you the flexibility to develop your business quickly when it's needed. It's an investment, that will help you grow your business and build your profits.
Choose the right partner now, someone who's not only familiar with e-commerce technology and can run an effective and efficient IT project, but also condsiders your business success.
Acquiring such a partner, and building a good relationship with them, brings tangible results by streamlining your use of Magento technology, ultimately contributing to your customer satisfaction and business growth needs.
What should you pay attention to when looking for a reliable technological partner to develop a Magento platform for your business? Here are some tips you can follow.
Check the company – collect information
Quick and easy access to information and communication assist you in finding and screening potential trusted technology partners for your business. You don't necessarily have to start with a Google search 🙂
Take the first step in finding an IT partner with help from your friends, ask them to recommend a proven IT company, either in person or through social media.
The next step is definitely vetting these companies, checking their website, screening their activity on social media, and certainly confirming their references from previous. If an IT company has experience and positive feedback from their Magento projects, won't mind sharing it's contacts with potential clients to ask a few questions, e.g.
how do they evaluate the cooperation?
what was valuable during the project, what bothered them?

were the dates maintained and was the scope of the project executed?
how do their online stores work?
how fast can they develop new functionalities?
A professionally operating company does not mind sharing contacts to its previous clients for whom they worked, and presenting such references by an IT company means that:
the company has proven experience working with Magento technology,
relationships with previous customers are good, and the company has a positive reputation regarding their services.
You may encounter a problem, however. What if the IT company you want to cooperate with doesn't have references from the clients they programmed for? As in the case of WLC, where they were a subcontractor for another agency. In this case, references can be provided by the contracting agency as the company representing the client and in charge of commissioning the project.
The recommendations of previous IT clients are important. Nobody in the business industry will recommend a company that doesn't operate in a professional manner, or whose services are unsatisfactory. Additionally, you can check out the online stores of their customers yourself.
IT companies can promote their image in by creating company profiles on sites like Clutch, an industry platform which helps you "find top firms for your big project". Apart from the company description, check the WhiteLabelCoders' profile: here you can find some information about their experience and the scope of their services, presented in a simple graphic: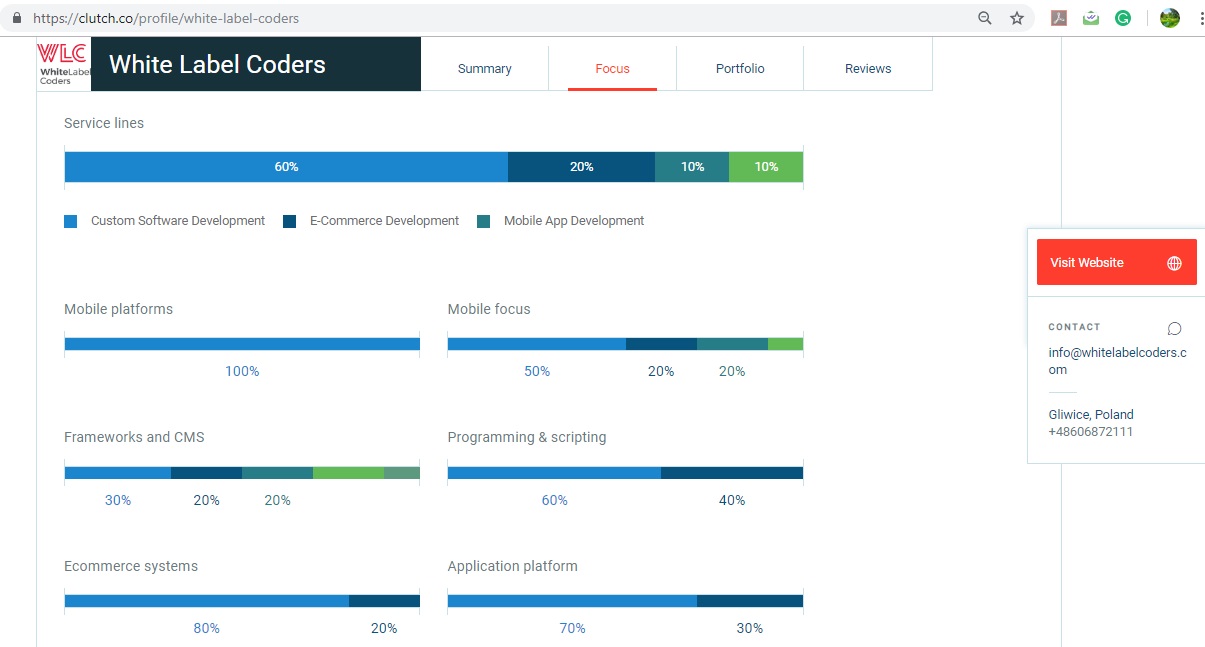 On WhiteLabelCoders' Clutch profile, you can also learn about their project portfolio as well as their customer ratings and reviews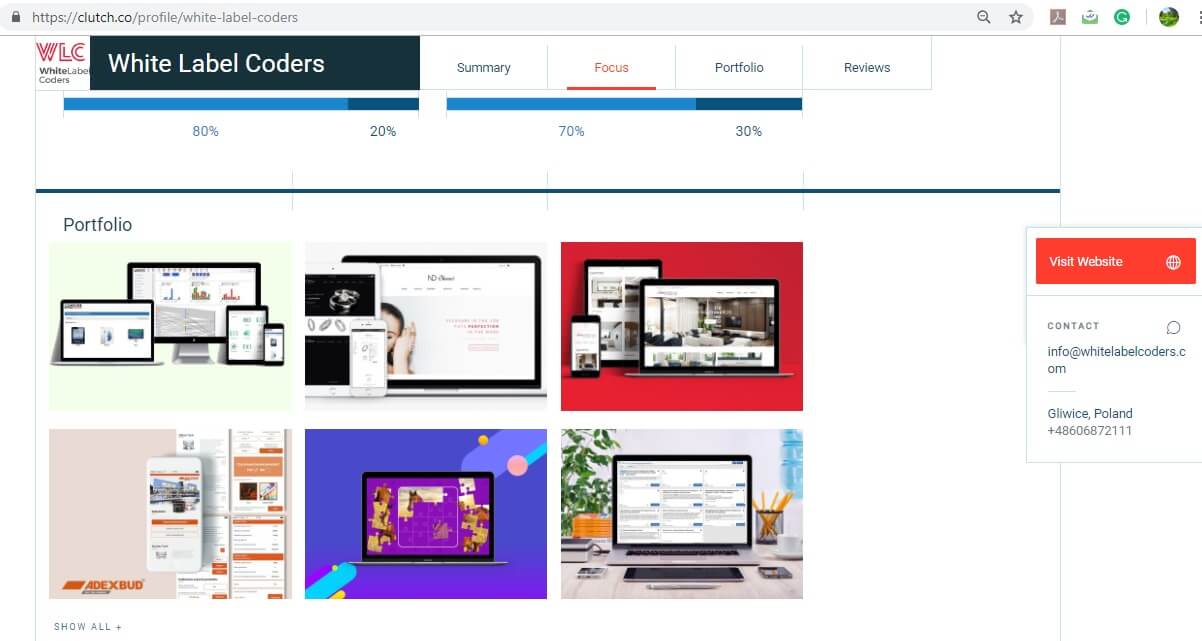 It is not easy to include opinions on business cooperation at Clutch.co. Clients have to make an appointment to call Clutch or fill out a form via LinkedIn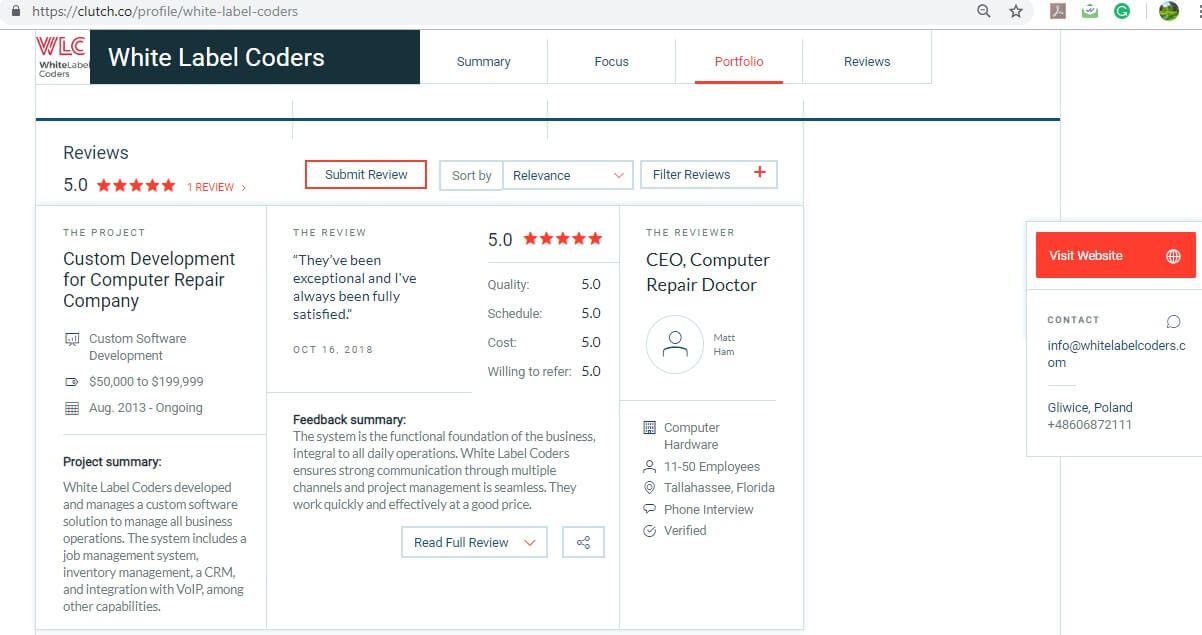 How do you check a team's competencies?
If the team of Magento IT specialists you're interested in cooperating with is an effective and experienced team, it shouldn't pose a problem to verify their working methods through a short conversation, covering the following topics:
→ the production environment
Magento developers never work via FTP, they work in a test environment to avoid overwriting each other's code.
→ integration with other platforms
It's important that the Magento team has knowledge of the entire integration process involving other platforms or applications. This guarantees that at the end of the development process you will receive a product that supports your business and any future development goes smoothly.
→ the process of testing an online store
implementation of online stores requires previous tests, which should be implemented at every stage of the programming project, before launching the store, and again after the implementation.
→ the automatic processes vs manual operations
an experienced team Magento knows that not every activity requires automation, because writing software for sporadic and simple activities may be a waste of the developer's and the project's time. Regular, frequent and labour-intensive activities should be automated.
→ hosting and maintenance
focus on which hosting services are used, and/or does the team guarantee the support and maintenance of the platform after deployment.
What does day to day cooperation look like?
You get to know an IT company from their completed projects, previous customers' opinions, and their experience and knowledge surrounding Magento's technology. Now, what would your cooperation look like on a day to basis day during a project? Work methods, principles of communication, verification of tasks, team management, crisis response, knowledge sharing and so on have a significant impact on how a project plays out, as well as, its course and costs.
An IT company that supports the client during the implementation of the Magento store project in the field of business solutions, specific store functionalities, testing, implementation, maintenance and development of the platform is focused on long-term cooperation, which does not end with the implementation of an online store.
Any IT company that supports their client during the implementation of a Magento based online shop, specific functionalities, testing, maintenance and further development of the platform is focused on long-term cooperation, which doesn't end when a store first comes online.
Make sure that after completing the project you receive continuous support in the areas of interface, integration and module training.
The professional IT company that's worthy of your trust and cooperation, knows that they build their experience, knowledge and brand, by satisfying their customer's business development needs and helping them achieve success.