Category: Outsourcing
Web development outsourcing as an answer for uncertain times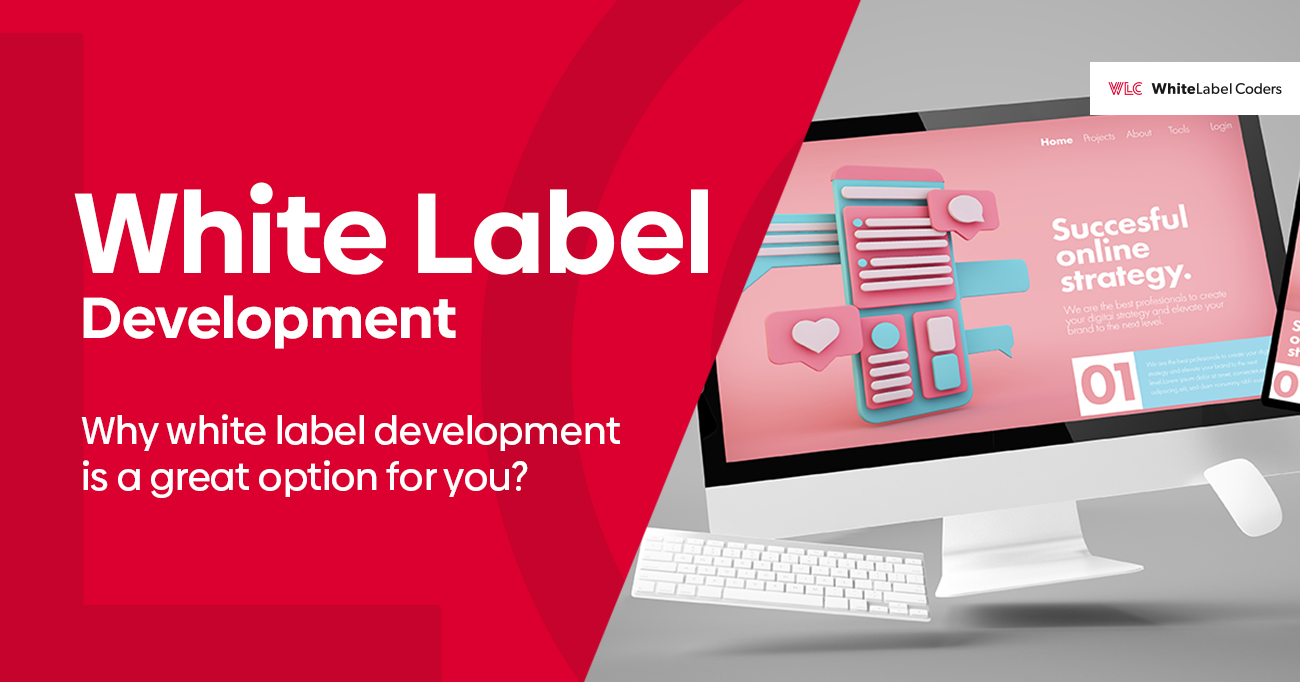 Is your web development department only an extension to the rest of the services you provide? But – being honest – it doesn't bring much profit? There is a way to change it with white label web development.
The pandemic seems to be gone, at least for some time. However, we still have a time of uncertainty ahead of us. Some digital agencies are suffering from a lack of projects and can't keep the team busy enough, while others are suffering from the bottlenecks. Still, hiring new staff in the shadow of the unknown market trends, strong inflation and anxious customers that recession has already arrived, increase in fixed-costs is a headache for most CFOs and CEOs. There is no guarantee of the amount of revenue in the uncertain times. Try web development outsourcing as an alternative to in-house teams.
Web development outsourcing can help you eliminate bottlenecks
What if you could eliminate the bottleneck without incurring additional fixed-costs? How can you increase your capacity without the responsibility of hiring new website developers this year? It is simple – outsource! When you choose white label software development, you don't have to:
manage your project workload,
hire additional staff,
onboard and train new developers,
worry about your technology stack, or…
panic about market uncertainty.
At the same time, you can be as flexible as possible in going scale!
I know what you may be thinking… "Oh well, I've tried web development outsourcing once or twice, but there are no reliable white label WordPress development partners" or "I prefer to control the projects for my clients and keep things in-house". Consider, though, how often your developers complain about projects that aren't challenging enough, but someone has to do them? How often do they seem to over-deliver on service? How often do they fail to deliver what they promised, and you take all the responsibility on your shoulders? At the same time, you have to pay for the developers! And, how often do developers take a day off?
What if I told you you could eliminate these issues?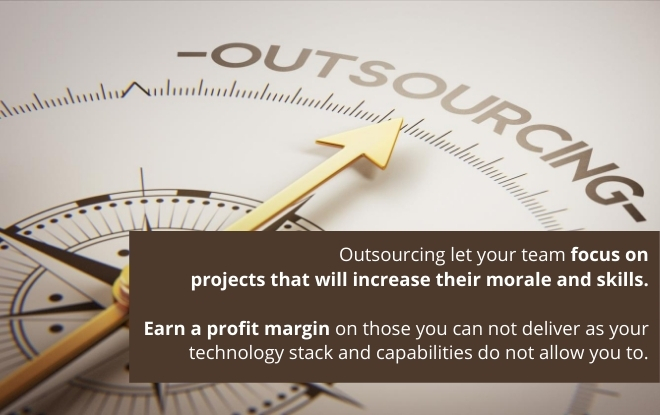 What if you could outsource the projects you don't want to or can't develop? By doing so, you let your team focus on projects that boost their morale and skills. So make a profit margin on the ones you can't deliver because your technology stack and capabilities won't allow it.
Another situation – clients have started sending inquiries for new projects, but you don't have enough staff, nor 30-60 days to find, hire, and onboard a new developer. Clients don't like to wait, certainly not a few weeks to start working. So what can you do? Outsource.
Significant gains with web development outsourcing
What's essential in this type of partnership so you can build a trustworthy cooperation?
First of all, working together with your outsourcing partner in a fixed-price model. This way, you know exactly what profit margin you will earn! Secondly, you can split the payment and pay half of the price after the project completion. This way, you have a guarantee that everything will be delivered as it should be, and you pay nothing if the partner fails to deliver.
Still scared? Try outsource a small task!
If you are scared of web development outsourcing, try out your potential partner by sending a simple task or small project as a pilot. Check how fast you get an estimate. See what kind of questions your partner asks, and how easy it is to contact the team. By executing a few projects at the beginning, you can check what kind of company you are dealing with. So if you're still not convinced, that's perfectly fine. However, consider the following cases, and then ask yourself again.
Do you sometimes have a bottleneck in your development department, and do your clients wait too long?
Do you have a big project in the pipeline, but you need to find a new Senior Developer ASAP?
Does onboarding a new employee take too much time or you can't find the competent dev in the local market?
Does hiring additional developers require hiring a new PM as well?
Are you tired of all the hassle … web development outsourcing is for you!
Don't hesitate to contact us. We are here to help you get rid of the problems with white label web development services. If you want to know more about what is white label web development – arrange a call and discuss with us all your questions as we are white label web development company working with many digital, marketing, and creative agencies from the EU and the USA.
Meet White Label Coders in action

We are the White Label Coders, the white label web development outsourcing agency based in Poland. The land of many great developers and reasonable prices.
We are a team of highly skilled, motivated and experienced developers offering website and application development, as well as technical support. WLC is a white-label outsourcing company that can develop websites and software while converting your needs into competitive business-oriented functionalities.
We can work as an extension to your business to deliver great solutions with bespoke functionalities under your own brand name. We can be your hidden asset, your valuable resource, and your long-term business partner.
Either way, you can find us on Clutch to confirm that we are "efficient, detail-oriented, and proactive in terms of product development. And that we think outside the box".
So, give yourself a chance and try white label web development outsourcing with White Label Coders to face the most difficult projects and most demanding customers.
---