Category: Outsourcing
How to work with an outsourcing company?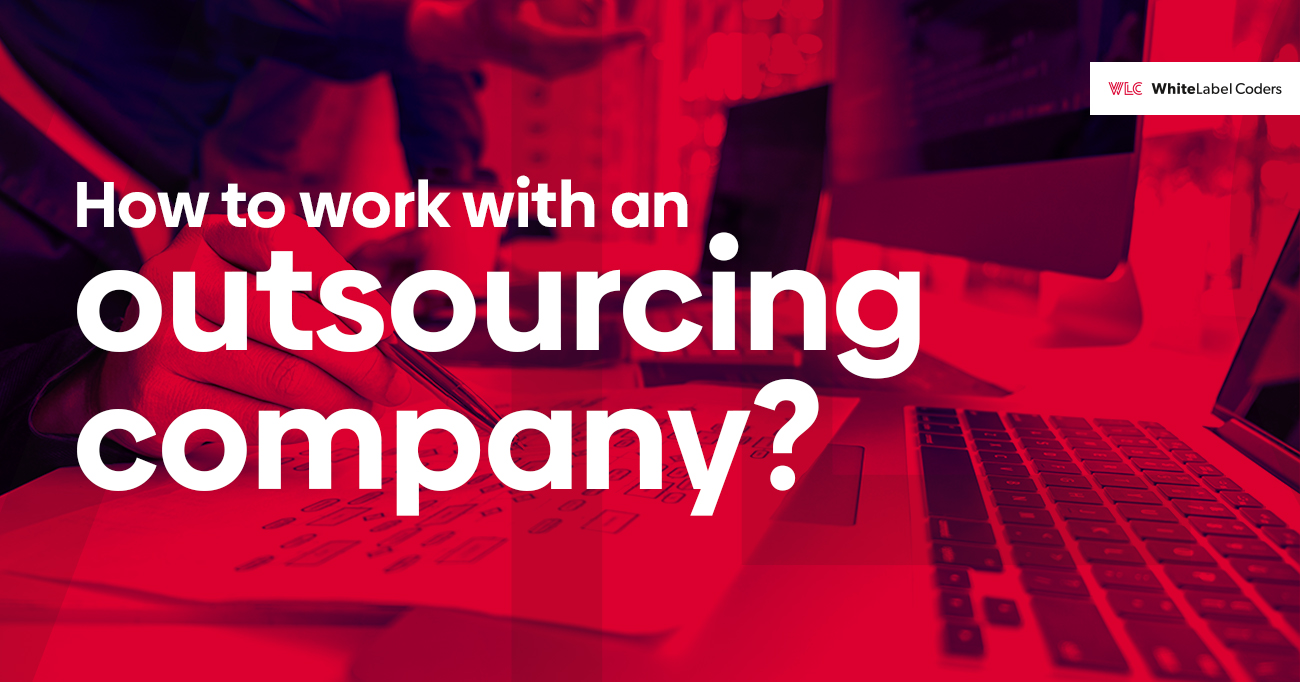 Outsourcing services is a very common business practice of handing over particular business tasks to an external company at specific costs and for a particular period of time. In fact, in most cases, development outsourcing is a process of assigning specific work activities to qualified experts to be done more efficiently, better, and cheaper.
It is therefore no wonder that this approach has become very popular in recent years. Not only because companies are growing and have more and more specific needs, but also since it is not easy to find tech talents for particular tasks. But of course, the most common basis for decision-making is an economic one.
What is outsourcing in business?
Today, companies can outsource almost all tasks and services. Of course, they often outsource IT services, including programming, websites and application development, as well as technical support. And they already know that remote developers and outsource coders are results-oriented and strive to deliver results.
And, believe it or not, this strategy actually has a very strong impact on the company's growth, productivity, and profits, as outsourcing frees up financial, human, space, and time resources. It therefore leads to savings in labour costs, taxes, and the overall costs of the company.
It also allows the company to focus on its core activities and concentrate its resources on what it does well, improving efficiency and increasing company's competitiveness.
The most frequently mentioned advantages of outsourcing are:
costs reduction;
access to IT resources not available internally;
freeing up internal resources;
improving business and customer focus;
acceleration of the company reorganization/transformation;
acceleration of project development;
access to the expertise not available internally;
reduction of time to market.
What is outsourcing of services?
In IT, outsourcing is the practice of hiring an external IT provider to deliver some or all of the IT results and resources required by a company. IT provider can be an individual IT professional, a consulting firm, a company leasing employees or IT teams, or a full-service provider.
By teaming up with an experienced and highly qualified external IT outsourcing company, you can make the most of IT resources without investing in an in-house IT team. This approach enables to take advantage of high-qualified tech experts, reduces IT costs, and brings products or services to market faster. Outsourcing of IT services allows companies to focus on their priorities and business development, and leave the IT tasks to the experts.
We write more about outsourcing a programming team in a separate article.
How can outsourcing help your company?
Companies that have decided to outsource their tasks should identify their core competencies, capabilities, and resources. They should also identify all or some of the tangential business that have to be outsourced so they can focus on being the best in their own field.
Outsourcing can help them to be more flexible and agile, to adapt to changing market conditions while achieving cost savings and improvements in service level at the same time.
And although companies often view outsourcing from a lower cost perspective, it can offer much more than just savings. As a business grows, web outsourcing company can provide access to new skills that will reposition the company in the market and can be a great way to drive innovation.
So when you think about how white label outsourcing can help the company, do not limit the potential benefits to managing a task with your current staff compared to the potential costs of hiring external contractors. Focus on the value that the contractor's expertise can bring to the business. Whether by expanding offer or by bringing products and services to market faster and more extensively, outsourcing can provide an opportunity to grow and outperform the competition.
How and where to outsource your WordPress work? The main reasons why companies outsource the development of WordPress sites are:
the difficulty in keeping up with all the innovations in best practices and trends in WordPress development;
and doing it at a lower cost compared to the in-house IT team.
The White Label Coders company was founded because we believe that digital agencies do not need to code the websites they design for their clients. We also believe that it is easy and profitable for agencies to entrust us with the coding of websites or webshops, as we can develop each of them in line with specific standards and a wide range of designs and functionalities. We not only provide outsourced developement in London but all over the world.
Through our years of working as a WordPress development partner for agencies, we have had the opportunity to improve our efficiency, understand how we can contribute to the success of the project, and build strong relationships with our partners.
So get in touch with us and join the circle of our business partners.