Category: Outsourcing
Best workflow practices when hiring white label agency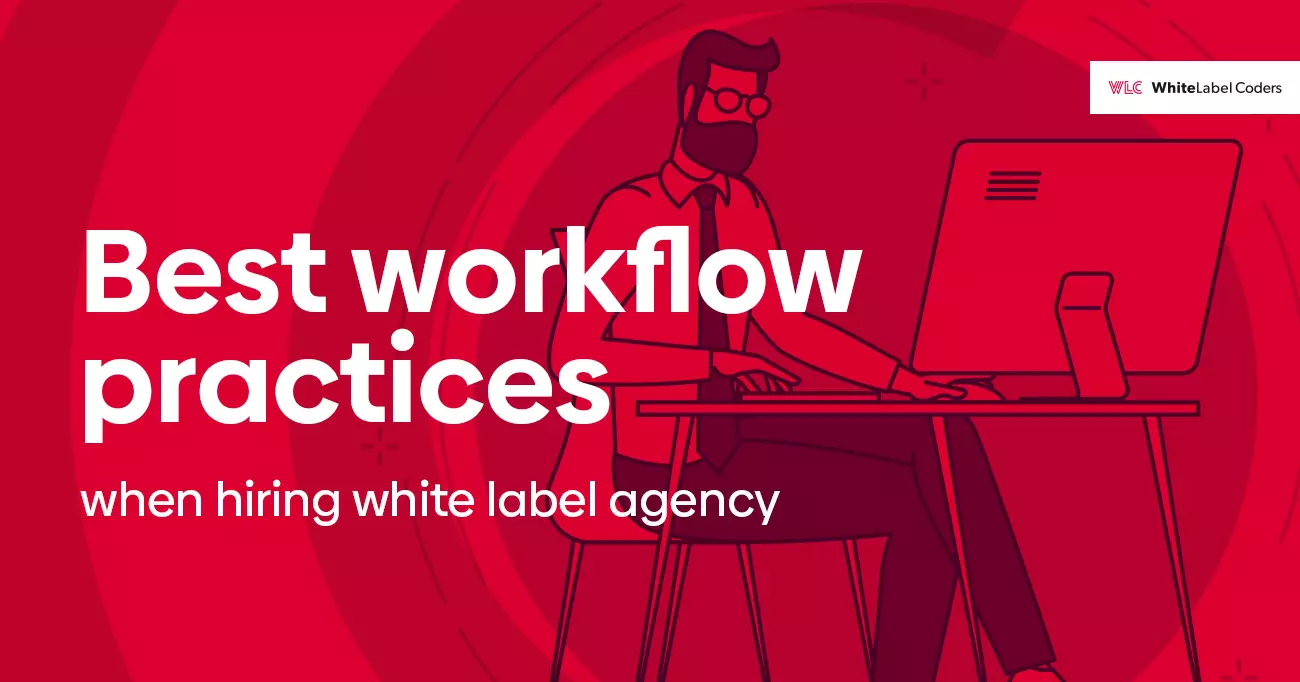 To stay competitive, many digital agencies will want their offer to be as broad as possible. Making this possible on their own is next to impossible due to the astounding scale of resources needed to hire, train and retain an ever growing team of top tier IT professionals. One way to tackle this problem is using freelancers. However, giving it a longer thought will make you realize that this still leaves most of the problems on your shoulders. If you really want the unlimited scalability that allows you to acquire as many clients as possible without ever thinking about project management, talent retention and risk management, turn to a professional white label web development agency.
How a white label web development partner help you grow your business?
The key to your success is aforementioned unlimited scalability. If you go with hiring developers and IT project managers to your own team or outsourcing them, you end up having to take care of every single aspect of a software development process. This is a great approach if you plan on becoming a software house. If not, focus on what you do best! Hire a professional white label web development agency and sell their digital services as if they were your own. Repeat this process for every new client and never worry about your workload as we, your web development partner, will take this burden on our shoulders.
What makes us as a white label agency so efficient
Believing this is the best approach, we continuously strive to improve our internal processes and communication approach. That way we are sure we can always offer you 100% of our potential. The tool that allows us to provide this is a company-wide use of Agile project management practices.
Agile allows our dedicated teams of IT experts to estimate, develop, deliver and sustain any software development project with unlimited scalability included as standard. This agile methodology makes sure that You, as our customer or business partner, always stay up to date. Depending on your needs, you can be debriefed on the progress weekly or in any other timeframe that the project requires. This translates to the shortest feedback loop possible and eliminates the possibility of the final product varying from your expectations.
The way we work with our clients and business partners is also reflected in the way we manage our internal processes. We are never slaves to the procedures we have developed over the years of our staff's hard work. On the contrary, we are the masters of our processes. We reassess and reshape them every time we stumble across a hiccup or a bottleneck. It allows us to stay flexible and down to earth. Our goal is to stay open minded and approachable, with this down to earth attitude usually associated with small companies, even though we grow exponentially by the year and take on more and more complex projects for our ever more demanding partners.
How to build trust with your web development partner?
You might be afraid that an external partner will disrupt your process flow and this can be justified as there are great, average and poor quality companies on the market. One of the most frequent issues that arise during the talks with digital agencies is them complaining about the lack of consistent quality and poor communication with their outsourcing partners. How to avoid that?
Direct communication – schedule a call with your future web development partner to see if you are on the same page when it comes to standards and communication. Online meeting will give you the chance to talk to a person on the other side and get the overall feeling of future cooperation. E-mail communication is good, but it will never replace a direct encounter.
References – there are plenty of places where you can verify your web development partner. Do your research and see what other people are saying about them. One of the easiest and fastest is Clutch, a kind of shortlisting that gives you a brief overview of the company.
Cooperation model – find the one that suits you best. There are 3 basic options: Fixed Price, Staff Augmentation, and T&M (time and material).
If you have a large in-house team and you want to perfectly fit to the standards you have developed, it is better to hire a developer in a staff augmentation model. If your development team is small or there is not a single dev in your team, a T&M or fixed price model (with end-to-end management on the partner side) is the best choice for you. Each model has its pros and cons that we have analysed for you. Take a look and make your own decision.
How we approach budgeting and estimates
Agile project management requires agile budgeting. For best outcome and blazing quick acquisition of a minimal viable product (first chunk of usable application with the most basic of functions) choose Time and Material contract. With this approach, we estimate work to be completed in each sprint.
Time and material
Time & Material Pros:
Immediate start, even if all the requirements are not on the table yet
Delivery of new parts of your app every week
Utilizing the full potential of the Agile methodology, the most time and cost efficient project management tool there is
Easy to introduce changes to the requirements
Time & Material Cons:
It's harder to estimate total project's cost upfront
Project schedule is often subject to change
You need to put a lot of trust into your partner
Fixed price model
is the complete opposite of Time and Material. Here we analyze whole project at once and give you our best estimate based on the materials you provided. This way You know your project's rough cost before we write first line of code.
Fixed Price model Pros:
We give you a detailed budget that we have to abide and where we are accountable of every overspend
We are able to give you a promise on a deadline, given that we don't stray from the original requirements
Fixed Price model Cons:
Every change in requirements affects both budget and deadline. Unlike with Time and material, pivoting the project can render them completely unreliable
We may have to add safety provisions for unexpected situations that inflate the budget. This happens especially with projects having vague requirements or sparse documentation delivered by client
Staff Augmentation
means you hire a developer (typically full-time) from us, and take care of the software development process 100% on your side.
Staff augmentation Pros:
It's like hiring a person directly to your team. But typically takes much less time than a standard recruitment process (even just a few days)
You don't build long-term commitment – such person is hired for a specific period of time
Staff augmentation Cons:
The complete project management and connected risks are on your side
Design your collaboration with a white label web development agency
Focus on a good collaboration model. It is easier than you might think. Follow the EASY guidelines below:
Easy start:
To make it work don't start with a project that is already close to deadline. It will lead you nowhere else than to the world of chaos. Setting up a good working relationship takes time and you need some safety buffers during the first 2-3 projects.
Start with something small, it's a good strategy if you have doubts and want to test a new partner first before you feel comfortable enough to give them a larger project.
Accurate start:
Good designs and project documentation are crucial. In theory we all know it, but in practice this stage is often neglected as we want to start the project ASAP. The more accurate your graphic designers and PM'S prepare the project, the fewer mistakes and problems there will be during implementation.
Agree on standards and make your specific expectations clear, such as graphics coding accuracy, responsiveness implementation, or the use of certain plugins, make sure the partner knows your expectations.
Simple start:
Start every project with a detailed kick-off meeting. Make sure there are no misunderstandings between you and your partner's team.
Cut into pieces, divide the project into smaller pieces, check the first complete pieces of work quickly and discuss all the remarks with your development team.
Your project it is!
Assign roles in your project so that they don't duplicate in your and your web development partner's team. Make an effort to integrate the roles with your team as if they were part of your agency.
As White Label Coders we are here for you. Give it a try and schedule a call with us to learn more!