Category: Business Insights
10 Tips to help you start your own business.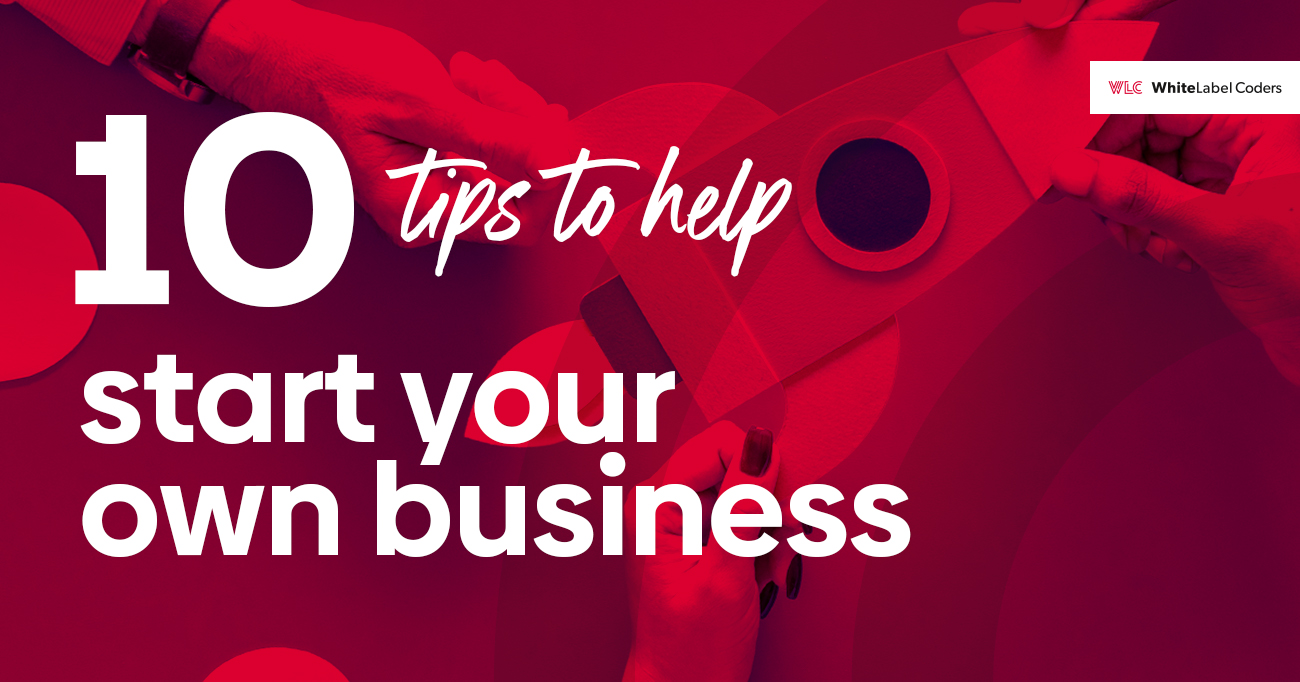 Are you planning on starting your own business? We know what you feel. We went through this sometime ago and now we want to share our knowledge with you. Here are ten tips that you should read before starting your new company.
Tip #1 Start small, stay on the safe side
Most businesses in early days can be run as a side project. This allows you to lower the impact of potential failure. Keep you day job and work on your business part-time. That way you can slowly transition from employee to boss.
It might take some time for your business to gain momentum. Wait until you can generate enough revenue to not only quit your nine to five but also invest in your company's growth.
Tip #2 Believe in yourself
Most of us want to make it big, but have no courage to do so. This is when we tend to get really creative and come up with more and more unbelievable excuses to start a new business big. Fear is nothing to be ashamed of though. Yet, without taking the first step, we will never reach our goal and our drop top Mercedes and Calabasas villa will remain but a dream.
There is no other way but to take a leap of faith into the future and face the unknown. It's natural to feel scared as you put everything on the line without knowing the odds. This may seem like an idle talk but cutting off from excuses and trusting your gut is the only right first step towards the success of your future endeavour.
Tip #3 Shoot for the starts but stay humble
In previous tip I wanted you to believe in yourself and your ideas. Now I want you to take a step back and listen to what other people have to say about you and your agenda, be it a family, work colleague or a discussion on the internet.
Absorb all the knowledge you can and confront opposing ideas. This broader insight will allow you to make more educated decisions. Accept or at least acknowledge critique and advices, especially if they come from more experienced people. Most of the successful people share a trait of being a good listener, though stubborn visioners were also among the greatest, take Steve Jobs for an example.
Tip #4 Work on your selling game
Talk to people about your new business whenever you can to overcome the feel of intimidation. Many entrepreneurs-to-be have hard time selling their ideas because they don't feel comfortable sharing them with strangers. Your success depends on your confidence, which may come in time if you practice on your pitch with your loved ones and acquaintances.
In no time you will feel relaxed when presenting your ideas to a prospect, be it a cold call or a business meeting. Focus on your body language, eye contact and smooth talk. Combine that with a solid product and you will be successful in no time with your new business.
Tip #5 Get to know your rivals
Thorough market research is essential to conjure a viable business plan. X-ray your competition and look for flaws or shortcomings that could be improved on with your vision of a company. Some of you will have to accept the sad truth that the market you are aiming for is overcrowded and you will simply be crushed by your opponents.
Tip #6 Have a backup plan
You start and new business. Let's try and think about the worst-case scenario. Are you prepared that your business may not go as well as you'd expect? What are you going to do if you end up not making any money at all? Keep in mind that over 50% of newly founded endeavors end up closing within first five years.
Have an escape plan ready just in case. Think through contingency plans that could save your business during worst days. If you are determined enough you could sell your house, car or other possessions to keep the company afloat. Maybe it's good idea to have a backup money reserve left for a rainy day. Always be overprepared. In the end, it's better to come with a gun to a knife fight than the other way around.
Tip #7 Focus on the solution not the product
Try to find a way to address a real need of a problem your customers face, rather than inventing the product first and then looking for people willing to pay for it. It's much more easier and more natural that way.
Focus on the core features instead of watering down the product with unnecessary and useless functionalities. In this time and age people are more demanding than ever and it's really hard to win over their hearts, so flashy gimmicks may do nothing but backfire on you. Take this as an example – though tabled embedded refrigerators made it viral, what people want and what sells best are models with good capacity, smart layout and low power consumption.
Tip #8 Find the middle ground between your ambitions and reality
It's really important to have a drive and be passionate about your job, but you can't have ambitions get the best of you. To succeed, you need to find the golden mean between your passion and harsh reality.
Having that in mind, you should never allow your passions and ambitions influence your decisions. Take more educated approach and base your strategy on market research and insights from your customers and similar companies.
Tip #9 Count the costs
No business wants so be a charity organization. While you pursue your dreams, don't forget that you can and should make a good buck on them. You should do a thorough research on what your future expenses are going to look like. Depending on what kind of company you want to start, you should factor in:
Launch costs – You will probably have some one-time costs related to starting a company. Those may come in form of registering fees and taxes, furnishing the office, buying computers and software, acquiring certificates and permits or finding your first employees.
Rent and utilities – As long as you don't work from home, it's most likely you will have to save up some rent and utilities money. Depending on your business a small, cheap office may satisfy your initial needs so these shouldn't be too much of a problem.
Marketing – Unfortunately in most cases, to earn money you have to spend it firs. Think about how are you going to acquire new clients. Maybe through a website? Internet ads and search engine marketing? Contact a professional to get a rough estimate of a budget right for your expectations.
Human resources – If your business cannot be run alone, factor in costs of not only paying your employees but also hiring them. Acquiring new people to work with you may be a costly endeavour by itself.
Try and calculate how long will you have to work to cover all of the above costs. Then you will have a better idea about realistic sales goals for your new business.
Tip #10 Get acquainted with the law
While thought of starting new business seems thrilling, the legal aspect may fill you with dread. It's like an appointment with the dentists, it may be quite scary but you will be better off going, then facing the consequences of neglecting your teeth's health.
Learn about your local regulations. How to run your accounting? Are there any certificates or permits you need to acquire? Are you obliged to register your business with some government agencies? If you don't plan to work alone, study your duties and responsibilities as an employer. If you feel confused, again, consult a specialist.