Category: Business Insights
How to Acquire and Retain Clients in the United States? The Question Worth the Big Bucks (no period)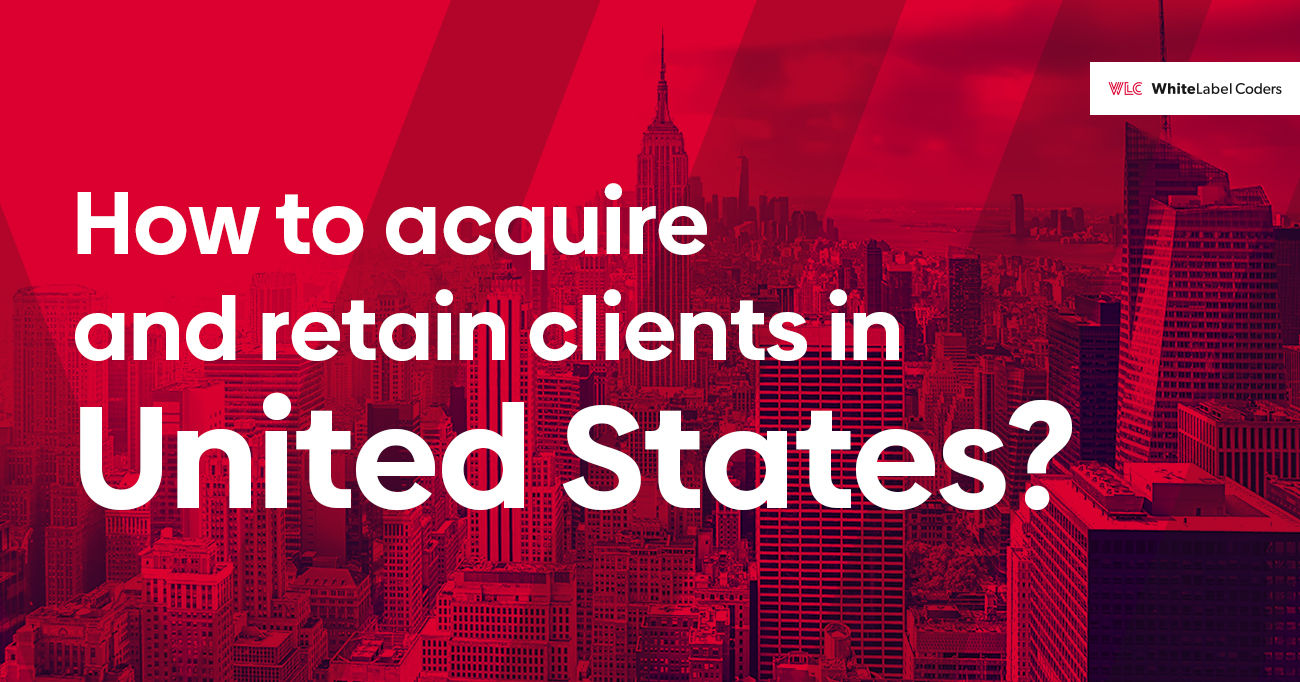 Infoshare is the biggest tech conference in Central Europe. It is a place where representatives of the start-up, development and investment industries have the opportunity to network in innovative ways. Find an answer on the the question worth the big bucks.
Ewa Zmysłowska, co-owner and CXO was, White Label Coders representative at the Infoshare conference in Gdańsk on May 8 and May 9, 2019:
"In the meetings I attended, the most frequently asked question was preceded by a short presentation of the company and its history."
"I'm the owner of a software company. I see that WhiteLabelCoders has successfully entered the American market and retains clients there. I want to ask you: How have you acquired said clients?" The answer to this question is worth the big bucks and it's knowledge worth sharing!
First of all: Be present
Notice that WhiteLabelCoders is present at every tech event, both in Poland and abroad. We invest our time and resources in business trips and we take part in events to gain experience in logistics, delegations and build relationships with the people we meet there.
In preparation for the events, we schedule meetings in advance, in order to utilize our time as efficiently as possible. Websummit in particular is an event we prepare very well for. During our trips to London and the United States (Meet Magento), our schedule is packed with meetings with people who we've met through our website or Linkedin. For that reason, it's crucial to be active on social media and to build relationships with potential clients well in advance. Therefore, you need to go out there, be present and be where your clients are.
Secondly: Make sure you understand your clients' business needs
This is the area that requires constant learning and development. I'm an IT engineer. People often joke that you get into IT in order to avoid being in contact with other people. This is only partially true because IT, just like any other field, changes over time. It requires being open and having a focus on relationship-building. So, learning to build client relationships, improving contact with people and understanding their business issues is a vital part of our work.
Mutual understanding is a much broader subject in this context. Clients usually speak their own language, which often differs from the language used by professionals. This is why you need to pay close attention to your client's business needs and to understand them, put a lot of effort and energy into understanding exactly what the person on the other end of the line means. You should make sure the client understands you too. This is not just the terms you use but also the scope of your cooperation and setting mutual expectations since clear communication with a client will influence the work of your team.
The ability to communicate in your client's native language is critical. In our case, the language is English. When we entered the American market 6 years ago, we began working with a native speaker, who started teaching English to all the members of our team. Despite the fact that many members of our original team are no longer with us due to heavy turnover, which is prevalent in the industry, this process is ongoing. Today we have not one but two English teachers, who work side-by-side to ensure high-quality language and communication skills among the current members of our team.
Thirdly: What are your accomplishments in terms of client projects? Can you actually deliver on your clients' expectations?
This area of activity is closely related to communication and mutual understanding. It stems from understanding the problem itself. Most importantly, it boils down to whether your company is reliable or not. It's easy to receive recommendations from clients when you have delivered your projects. This is, of course, the most difficult aspect of software development; to deliver the project on time, within the budget, the scope of cooperation and the client's expectations.
It's not an easy task to perform. However, you are business owners. You're the cream of the crop of this industry, which is why you have the ideas necessary to consistently fine tune this process.
From our experience, these are the key aspects which empowered us to successfully enter the American market six years ago. They've allowed us to work with the clients we've acquired – and in many cases still retain – because we did our job well, and we do our best to keep up the good work.