Category: Business Insights / Software Engineering
Figma, Sketch, Adobe XD or InVision? Web design tools comparison.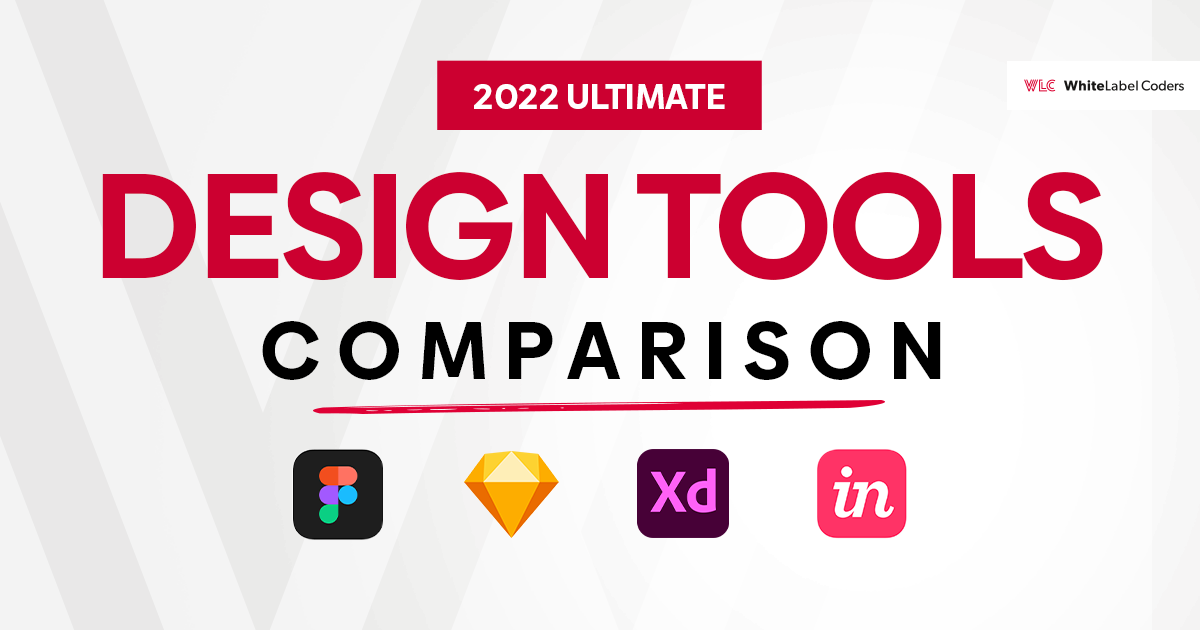 Web designing and developing – which tools to use?
The process of web design depends on many professionals and the cooperation between them. Their workflow must be carefully planned and discussed beforehand for the process to go smoothly. The web design tools that are about to be used should be also discussed to see if everyone is fine with them. What are the best tools to use in the whole workflow, and what are the main differences between them? Which tools to avoid? Figma, Sketch, Adobe or InVision? See our design tools comparison.
What are graphic tools?
Graphic tools are pieces of software that enable the improvement of visual content. One of the most popular graphic tools is Adobe Photoshop. The main idea behind graphic tools is to work on photos or pictures that had been already taken – to improve or alternate them. Graphic tools work mostly with raster graphics.
What is the tool of graphic design?
The difference between a graphic tool and a graphic design tool may seem quite subtle. These programs are dedicated to doing two completely different things. Graphic tools are meant to work with photos that need to be improved, while graphic design tools emerged to design things, to create them from scratch. They are used to design a variety of things, from book covers, through logos, to layouts of websites.
What is the difference between graphic tools and tools for web design?
As much as a project of a web page is a picture, you need to remember that it is a very specific picture. A web page is never static, even a one-page domain is meant to be interactive, and this interactivity needs to be visible in the design. The web page will be displayed on varying screens: monitors with different resolutions and – more and more often – mobile devices. The design must adapt to all those changes.
Why graphic tool is not so perfect for designing a website?
Photoshop for example, as a graphic tool, was mostly dedicated to working with photos and editing raster graphics. It evolved later, but even today it lacks many options that allow for simplifying the workflow between the web designer and the web developer. It still has problems with vector graphic management, which is necessary to create scalable elements. Furthermore, it does not translate so easily into the language of a website. How to create a button with its functionality in Photoshop? It is close to impossible. Typography and colour management cause trouble as well. Reusing the same element seems quite troublesome. Summing up – you can use Photoshop to design a website, but why, when there are so many better design tools around?
Do not forget about UX design
While designing a website, you cannot forget that it is not all about how it looks, but whether it is user-friendly or not. People like pretty things in general, but they also must know how to move around your website. That is why every website needs a UX and UI designers. UX/UI designers will make sure that every button is in the right place, that fonts match the colours and that the page is easy to use by every user.
What tools does a UX/UI designers use?
There are dozens of web design tools that can be used for designing a website, both free and those valued at hundreds of dollars. However, there are only a few that professionals use. Being familiar with those giants will make it much easier for you to not only find a better-paid job, but also to design UI with more ease, accuracy, and finally, pleasure.
The most popular tools created particularly for web design can be counted on one hand – Adobe XD, Figma, Sketch, InVision and Zeplin. They may seem similar at the first glance, but they all have their unique pros and cons.
UX/UI design tools – think about what you need
Having so many tools to choose from can lead to what is called decision paralysis – the inability to choose what you need and what is the best. That is why it is so important to start thinking about what exactly you need to work efficiently. Whether on your own or with your team. Some tools are better for individual work, each of them will suit you better for every stage of the web designing process.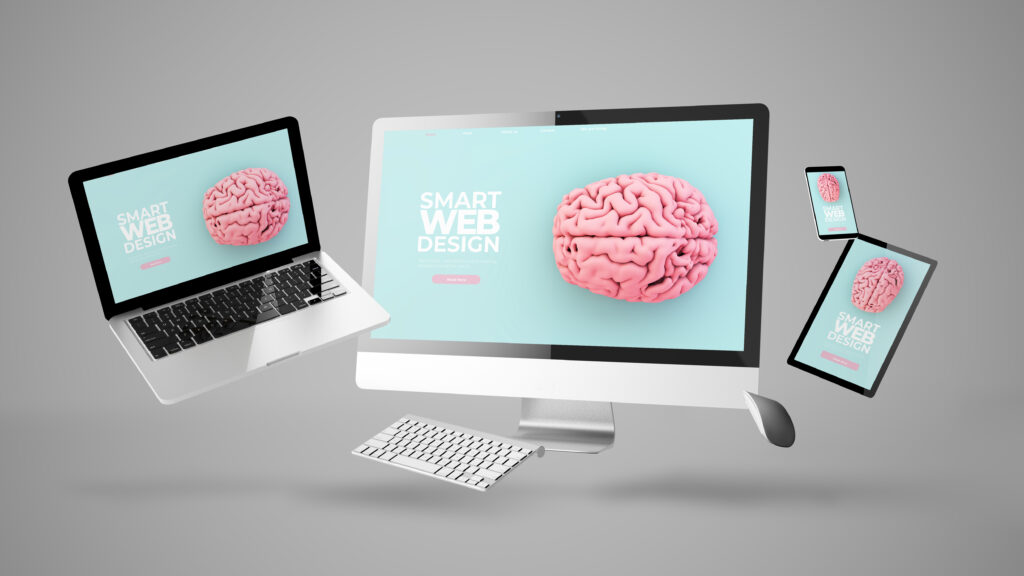 Sketch, Figma, Adobe or InVision? Comparison of the work in each web design tool
Every designing tool gives you different possibilities. To make the most of them you need to be aware of the options that you have. After you have your needs stated, doing research is the best way to get to know your options. Let us look at the similarities and differences of working with various design tools.
Sketch – pros & cons
Sketch is one of the first modern tools for UI design. For an enormous number of professionals it still wears the crown of the best tool for designing and prototyping. Together with many integrations and the possibility to create a live workspace, it is no wonder why designers love it so much. From ideation, through wireframing, to design and prototyping, Sketch allows doing it all in one place. Its biggest disadvantage for many can be the lack of a desktop version for Windows. However, it is perfect for iOS and can be accessed from a browser as well.
However, working in a browser has its limits –web app does not give you the possibility to create new files. Thanks to a web app you can synchronize the design between devices, and let other members of the team collaborate on the project. In order to deliver a complete project in Sketch one must have an app on Mac. Sketch has plenty of fans among developers and it is considered one of the most favorable tools.
Figma – pros & cons
Figma is another giant tool, used by many, with a motto that 'nothing great can be created alone. Figma also puts a lot of emphasis on working together. Next to integrations and shared files it offers its users a common whiteboard to brainstorm ideas. It outbids Sketch by working on all operating systems with ease and enabling developers to export more extended assets, for example, fragments of SVG (which, form example, is not possible in Adobe XD). In Figma you can easily see all CSS attributes for a given element. The tool enables editing and exporting assets easily, and allows to work on layers. You can meticulously organize your own catalogue of projects. Figma has both, online and desktop version.
Adobe XD – pros & cons
As much as Adobe seemed to lose out on the chance of the changing market of graphic design at the beginning, it has caught up quickly with its new software Adobe XD. When it appeared, some asked if it is worth to learn a new tool when there are so many great ones already on the market. The biggest advantage of Adobe software is the model of pricing. The subscription of Creative Cloud – all Adobe software products for one, relatively low monthly payment. If you already pay to use one of them, it may be useful to check out Adobe XD. There is not so much learning, as the interface is remarkably like all the others Adobe programs.
However, Adobe has some disadvantages that might annoying for developers, such as the fact that it does not load all the element, and you do not know what is missing until you double check with the initial project design. Therefore, the export of assets is more limited that in Figma. One of the advantages is the possibility of working in browser if this is the way you would prefer.
InVision – pros & cons
The software is mainly created for prototyping, but it makes a nice pair together with its sibling – InVision Studio. Developers say that it is a little slower and less advanced than others. But it is also one of the newest programs of that kind, so upgrades may help with that. Integrations with Figma, Adobe, and Sketch make it possible to work with the same design in various programs step by step. You do not have to download it, as you can work in a browser. InVision seems a bit slower than its counterparts, and most developers claim that there are better tools do web design.
Zeplin – pros & cons
Zeplin is not a typical design tool. It was created to help with handoffs. Rather than connecting a team of UI designers, it helps to cooperate within a larger team of various professionals – from your client, through UI/UX designers to software developers and copywriters. Even though some designers may see the program as useless, it can be really helpful while cooperating with others throughout the process.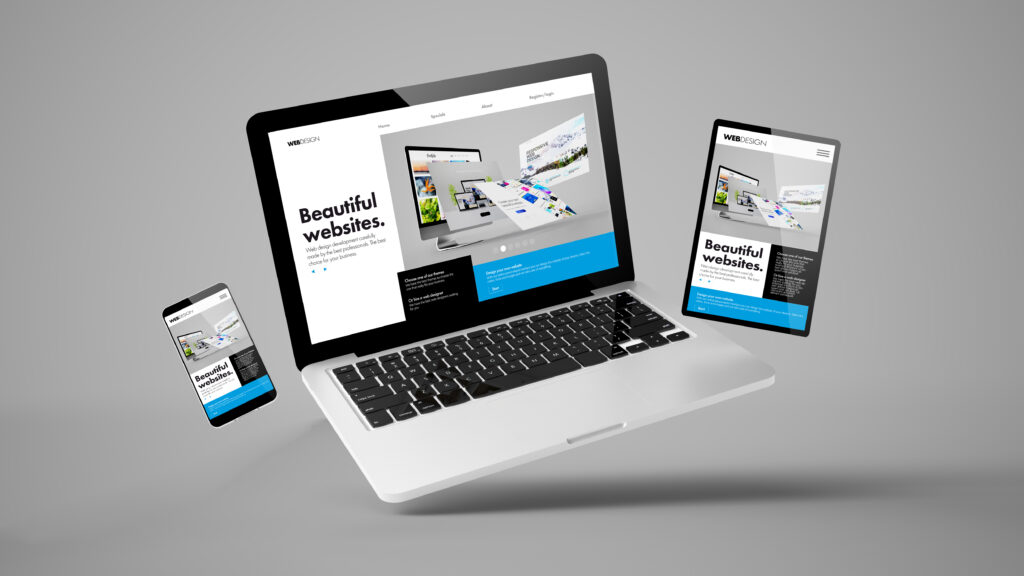 What are front-end web development tools?
Front-end developers make sure that the webpage looks like it was designed to look. A front-end web development tool is an application, which helps developers to build a website with ease. Most of the front-end web development pieces of software provide drag and drop elements and other features to build a website layout with little, or even no, knowledge of coding or programming. Most content management systems, CMS, in short, work this way.
Design tools from the perspective of a web developer
For a successful web page to be developed, it must be designed well. That is for sure, but it also must be well coded, based on that design. To achieve both goals, web designers need to remember that their design is going to be used by other specialists, namely web developers. Designing in a tool that automatically creates CSS attributes of an element will definitely simplify the developing process, as well as the possibility to download assets directly from the design tool. Web design is a combination of art and numbers, design, and coding. Always bear that in mind.
Communication is king
Cooperating with a team of various professionals may be difficult, especially in the modern world, where remote work became a standard. To make it less cumbersome for all of you, assure a quick and defined way of communication and troubleshooting. At the very beginning of the project, define the workflow, choose a tool for communication, and talk about all the issues that may appear along the way. Setting up certain rules in the first place may help you to avoid mishaps just before handing the project over to the client.
Start your next project with us. White Label Coders has been selected among the Top Custom Software Development Companies in the United Kingdom by Designrush.
---