Category: Business Insights / Outsourcing
How much does website development cost? Will outsourcing eat away at your margins?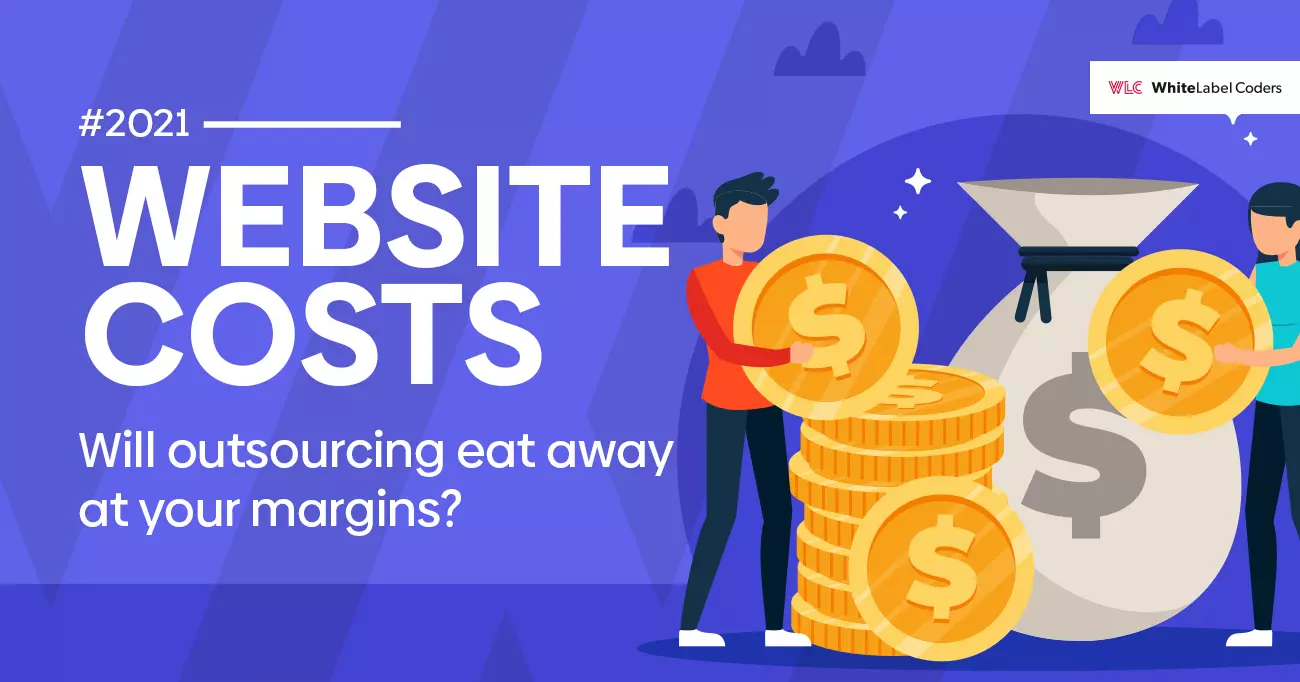 We all know that money doesn't grow on trees. It's definitely true, especially in terms of business and millions of things that are necessary to keep it running smoothly. If you are super busy running your digital agency and focusing on a good website design you then end up searching for good website development company to make your projects go live.
You might already have an internal team of developers or external partners at hand. Whatever works for you is good for you. What if there is a lack of resources, or if you start planning to grow your business and take up more sophisticated website design? You will certainly need a reliable web development partner. You think, that's expensive! Outsourcing is expensive, but is it?
How much does website development cost?
The company website is a necessity. And if you want to know how long it takes to build a website from scratch and how much it costs, you have to consider many factors that affect the project duration and, therefore, the website cost.
The project duration depends on several factors. The most important one is the purpose of the website and that is why we divide them into brochure and e-commerce ones.
Premium template development
Project hours: 40-80h
Simple one page website
Custom designed, requiring developing custom template
Simple website with home page, about us, and approximately 5 templates, without complicated elements
Advanced website with many custom templates, sophisticated graphics, advanced integrations (i.e. with CRM or marketing automation tools), and calculators:
Animation rich design – in case you plan a lot of JavaScript animations and interactive elements on the webpage, it can add even a few additional weeks of development. Especially complex on-scroll animations can be tricky to test and make them look properly on all desktop and mobile platforms which should be supported. The size of the website and the complexity of the graphics are of great importance. Usually, we are provided with the website tree, but it only allows us to make a rough estimate.
Website design may make the website more complex and demanding in terms of coding, depending on how many filters, shadows, backgrounds have been included in the design project. Also, the way slider works, or how exactly the contact form or map should function may decide if we are able to use a ready-made component to save on development time or we need to create it from scratch. Different animations, meant to enhance the look and feel of the site can also add more work not only in terms of development, but also detailed testing, to ensure website works consistently across different platforms.
Moreover, when a mobile website significantly differs from a desktop one, then the project is valuated differently. With responsive web design, websites and stores can adapt to the requirements and resolutions of the device screens and provide the best experience to users whether they are using desktop computers, laptops, tablets, or smartphones.
E-commerce website development:
Here again we can differentiate between two categories depending on the complexity of the website development project and the approach. You can use ready-made templates or go for custom web development.
E-commerce / WooCommerce premium template development:
Project hours: 80h-160h
Fully functional store
E-commerce / WooCommerce custom development:
Project hours: starting from 200h
Custom coded website
Dedicated graphics
The upper range is almost unlimited, as the largest implementations we've accomplished in the past took thousands of hours of work. We can use plugins whenever possible, but many website elements need to be coded as no one has ever done it, or the existing solutions do not fully meet business needs. These include:
Payments integration
Marketing / affiliate programs
Discounts / discount coupons
B2B functions
Loyalty programs
ERP integration
Website development costs
This is a simplified, basic approach to the valuation of the project duration. To calculate website cost simply multiply the number of hours it takes to build the website by our hourly rate. And that's it.
Every time you start a website development project you need to know several basic factors like if it's going to be a custom designed website or a premium template, simple brochure website or e-commerce, number of pages and subpages. Define your client's expectations towards graphic design, including animations and whether you want to apply a pixel perfect approach, specify whether there is a separate mobile design, how many breakpoints for different resolutions are there in the project. Describe all possible functionalities such as different forms, configurators, custom pop-ups with confirmations, external integrations and other specific features expected by your customer.
This guide will walk you through the average custom software development cost by tpe of your business and size.
Sounds complicated, it does not have to be. Contact us for support and we will drive you through the entire process with your customers. At White Label Coders you meet a team of experienced web developers that have seen it all.
Do you have an exciting project coming up that You would like to talk about?