Category: WordPress
How to change WordPress to a job portal?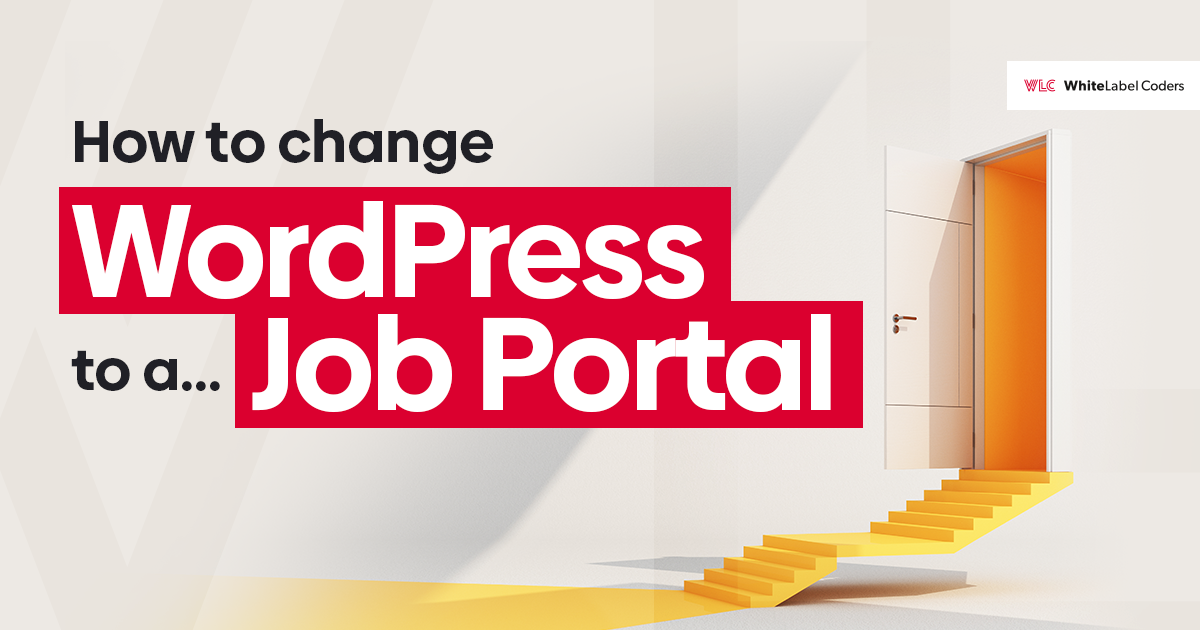 Over the years, WordPress has gained outstanding flexibility. Its improvements gave the users a wide roster of tools to build whatever they want. Nowadays, it can be utilized to make a good-looking and stable brand site, and create an e-commerce website, online community portal, or wiki pages. WordPress-based job portals give you great opportunities to find new employees and improve your recruitment process.
Read the article to find out more about:
WordPress job portal features
WordPress best job portal plugins
Modularity seems to be the greatest advantage of WordPress technology. You can base on its core functions to build a fast and lightweight webpage. What is more, you might extend the functionalities with easy to use, yet powerful plugins and themes that give you a remarkable toolset for more advanced projects. There is virtually no limit to what you can build with WordPress add-ons – regarding both the functionality of your webpage and the number of users, even if there are hundreds of thousands of them.
A great example would be a job portal that can be integrated with your existing webpage or created as a standalone site. Online add-on repositories give you a great range of WordPress job portal plugins and themes. Both free of charge and paid. Working with them, you can add crucial functionalities to your website in just a few clicks and give it a cutting-edge design that is scalable to different devices and offers a great user experience.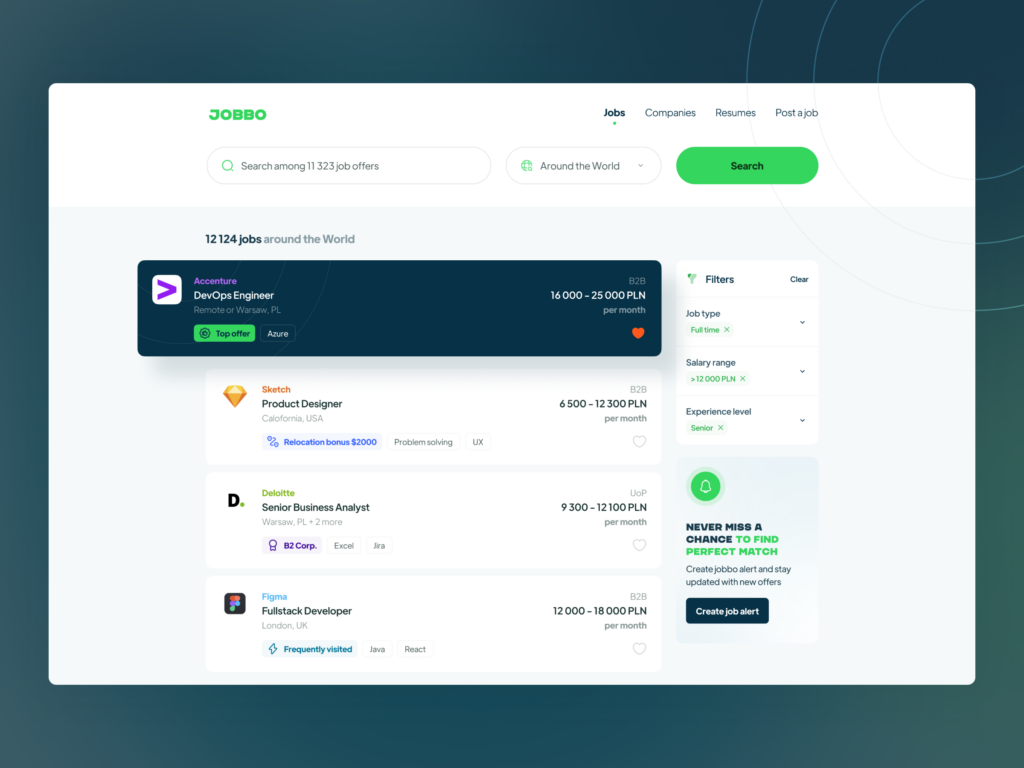 Advantages of having a WordPress based job portal
A digital job portal that you own gives you an important advantage over the use of external services – it directly connects you as an employer with potential candidates for the jobs you offer and facilitate the whole recruitment process. Creating a WordPress job offers platform gives you, as an employer, several important benefits:
you do not have to deal with the terms and privacy policies of other providers,
your inbox is not flooded with tons of emails from third parties,
you give interested persons the opportunity to apply immediately,
there is structured information about candidates,
you can put more energy into the analysis of the application than while posting offers on external job portals.
WordPress websites offer many benefits. However, to work well, they need to provide some specific functions, both on your and the candidates' sides.
What features should a good WordPress job portal have?
To connect employers with job seekers, job portals utilize some specific functionalities. You should know about these features not only if you want to create a career page for your business, but also to build your WordPress job board to recruit new employees. What is more, they allow you to create yourself an additional paid service. Among the most important features that job offer websites should have, you can find:
Search and filter functions – thanks to them, interested parties can easily search for job offers matching their skills and filter them by category, type of job, keywords, and location.
Responsive design – many people use their smartphones to look for jobs online. Responsive design prevents potential applicants from opt-out due to poor usability by fitting the webpage to the screen that they use.
Front-end applications – they allow companies to post job offers and candidates to apply and submit documents. This saves all parties a significant amount of time and simplifies the entire recruitment process.
User profiles – a good job market allows you to create accounts for both companies and candidates. Employers can track their offers and manage the applications they receive. Interested applicants can submit their details, upload their CV, and follow the status of their application.
You can add intriguing capabilities can to your WordPress job portal with popular add-ons. Even in their most basic, free-of-charge form, they offer numerous functions and tools for you to use.
Selection of the best WordPress job portal plugins:
WordPress Job Manager
A great starting point for your WordPress job portal would be WP Job Manager created by Automattic. Due to the freemium business model, it is a great choice if you are fine with only basic options (which still are plentiful and powerful!) or seek more advanced options. If the latter is your case, you can easily extend WP Job Manager with additional plugins with extra functionalities, adding application forms or monetization to your portal.
WordPress Job Manager gives you numerous advantages, including:
the possibility to use WordPress Template Hierarchy due to custom post types the plugin uses,
easy customization of plugin behaviors such as login redirects or edition of job submission fields thanks to vast, yet comprehensible documentation, which even includes snippets and filters,
template tags to use in loops, which are helpful when you need to output the company's logo, job status, or permalink location,
support for user submissions, that allows entering the jobs in the frontend. Together with the WooCommerce Paid Listings add-on ($39-$99), it gives you a possibility to monetize your website turning it into a paid job offers platform. Your users can then easily submit and edit their offers with a frontend dashboard 'My jobs'.
Even the free version of WordPress Job Manager allows you to:
create custom URL's leading directly to a page with already filtered job offers,
add categories and job types in the WordPress dashboard,
include a widget with recent job listings,
use AJAX search with filters,
add a reCAPTCHA and checkbox for acceptance of terms and conditions, you can easily set it in the dashboard's 'settings' section.
WordPress Job Portal in the free version does not come with a built-in application form, forcing the users to apply via email or URL. This functionality can be added with a paid Applications add-on. The other issue is that applications are not stored in the database, so they cannot be managed with the WP dashboard.
Apply Online
A good alternative is Apply Online plugin, advertised as "the most user-friendly WordPress online application form builder". Indeed, it offers outstanding capabilities for the creation of forms, publications of job offers, and management of received applications. At the same time, all those advanced functions are easily accessible with drag and drop!
Apply Online seems to be a great choice if you need a free job portal WordPress plugin. It allows you to:
create custom types of advertisements,
use a built-in advertisement form creator with most of HTML fields,
display job offers by selected filters with a short description,
sort listings in the frontend,
assign permissions for individual tasks to WordPress users,
add comments to candidates' applications,
add multiple attachments in the application form,
use WP Hooks for the implementation of advanced customization and functionality.
Various additional extensions add interesting functionalities to the basic plugin. The most noteworthy are:
Application Tracker – which allows candidates to check application status, feedback, and other additional information,
Application Emailer – which sends the complex application, in full version, with attachments to the provided e-mail address.
Apply Online does not allow you to configure the appearance of your website. Several important features are included only in paid add-ons, and the functionality of a free version is somewhat limited. However, even with the basic toolset, Apply Online is an attractive add-on that allows you to create application forms and configure their behavior according to your needs.
WordPress Job Board
Among all the essential functionalities and tools that allow you to create a great WordPress job portal, WP Job Board offers SEO and social media features. It is also great to monetize your portal with ads or charging the users for specified actions, such as posting the job offer. You can even set up an automatic renewal of subscription that automatically charges the card using Stripe or PayPal service. Unlike other most similar add-ons, WP Job Board does not come in a free version.
The features you get with a personal license ($97) are:
one full year of upgrades and support,
unlimited jobs resumes, and applications,
Jobelon theme included (worth $79),
documentation and possibility of modifying source code.
While with a personal license you can use WP Job Board only on one website, a business license ($199) has no such limitation. It also includes 5 additional extensions to integrate with Mailchimp, Google Analytics, Sliced Invoices, send files to Dropbox, and hide candidates' personal information.
Simple Job Board
Another outstanding free-of-charge option is the Simple Job Board. Its main advantage is a lightweight architecture that allows your webpage to be quickly loaded on virtually any device, but this is not all. With SJB you get an extremely easy-to-use WordPress job board add-on that allows you to add job offers to your blog or website quickly.
There are several important advantages of Simple Job Board, including:
built-in custom post types and the use of a shortcode for job list output,
easy filtering of the offers with category, job type, location, and others as well as the possibility to combine filters,
option to change template's structure with Job Board templating feature,
built-in application forms feature, managed in the dashboard,
option to add custom fields in job offers.
In the free version, jobs can only be entered in the back end – you need a paid add-on to enable frontend job posting. Candidates cannot apply via email or URL, as the plugin only supports the application form. For this reason, all applications are stored on your server in the WP database, which may be problematic if you experience increased traffic. Another disadvantage of Simple Job Board is that it only supports AJAX and CAPTCHA with paid add-ons.
Themes for WordPress job portal
While for you as a web developer or potential employer of the greatest importance may be the technical side and functions that plugins offer, the visitors of your webpage appreciate its looks, clarity, and scalability to different devices. The best way to provide them with a nice-looking and intuitive portal is to use WordPress job offer themes. One of the most popular is Job Portal, which offers great quality free-of-charge. It is easily customizable; hence, you can design your webpage the way you want.
RoboJob Lite is a great option too, especially if you already use WP Job Manager, as they both are integrated. WordPress theme for job portal RoboJob Lite is not only a good way to customize the appearance of your website the way you want. It also offers countless functionalities on its own, for example including Search Form in the banner section for clear and modern looks. If you seek other interesting themes, check Jobile or Metrolo and their capabilities.
How can a WordPress job portal improve your business?
WordPress plugins and themes are a great way to extend your website over time. Maybe you have an e-commerce platform that grows rapidly, and you plan to add a career section to actively search for new employers. Or you write a popular blog that many experts read, and you want to display them related job offers from big providers to monetize on clicks? In both (and many more) cases, Job portal plugins are perfect for you.
Adding a WordPress job board to your website allows you to earn from other job providers or save on fees they demand; it builds your professional image and makes you target very specific candidates. What is important, you do not need to be an IT expert. Most WordPress job plugins and themes are easy to integrate with your website and to use. With them, you will gain new visitors, commissions for clicks, and great employees.