Category: Business Insights / E-Commerce / WooCommerce / WordPress
The battle of e-commerce platforms – Prestashop versus WordPress
With the rapid pace of digitalization and ever-changing customer expectations, our digital "be-or-not-to-be" starts at very basics: our website. Without a website, your business is not on the digital map, and you lose potential clients to your competition. If you want to set yourself up for success, start with a good website, as it will help you build your online presence. When you start a website, you need to choose, which website platform is best for your purposes. There are numerous options on the market, but we will take a closer look at the two of the most popular e-commerce platforms: WordPress+Woocommerce versus Prestashop.
The battle between Prestashop and WooCommerce
WordPress is an industry giant and WooCommerce, its e-commerce platform, has a 21% market share of e-commerce software platforms worldwide. Since WordPress hosts over 40% of the world's websites, it is an obvious choice for many businesses. Prestashop's market share is significantly smaller — only 3% — but it enjoys considerable popularity among business owners all around the world. Praised for its user-friendly interface, it has established a strong position on the market and continues to attract new users. Which one is a better choice? Since WooCommerce and Prestashop have different strengths and weak points, it all depends on your own needs and expectations. Let us compare what Prestashop and WooComerce have in store for us!
Prestashop: user-friendly & packed with features
Prestashop is a hit with many users since it offers an extremely user-friendly interface with numerous modules. Easy to install and navigate, it supports multiple currencies and 75 languages, which is important if we plan to support international transactions. Prestashop is highly customizable, which means that we can easily configure our store to our needs: set our own payment methods, choose our own shipping rates, and set geographical delivery zones. Thanks to numerous filters, we can display our products in any fashion we desire and make the ordering process smooth for our customers.
Prestashop focuses on legal compliance and allows us to freely configure taxes based on different geographical locations. Additionally, it's design helps to optimise SEO and offers insights into our store's traffic, popular items, and sales, which encourages effective customer segmentation. Since it is possible to run in a multi-store configuration with Prestashop, it is an interesting option for owners of multiple businesses. Prestashop has customer support in place, and you can either contact them by e-mail or phone. Answers to common inquiries can also be found in their FAQ section. Important note: you need to self-host your website, but Prestashop has its own list of trusted hosting partners.
Prestashop has also a long track on the e-commerce landscape. It has been designed to be an e-commerce platform in the first place, in 2005.
Pros of using Prestashop
User-friendly interface
Easy to install
Open-source architecture
Numerous features and templates available
Integrated with major carries (USPS, UPS, and FedEx)
Supports multiple languages and currencies
Mobile-friendly stores
Numerous payment methods available
Cons of using Prestashop
Limited scalability
Difficult to customise when writing code is involved
Extra plugins and themes can be pricey
Not the best choice for e-commerce business models requiring high customization of the user flow, like publishers, e-learning, subscriptions
Users on forums report many bugs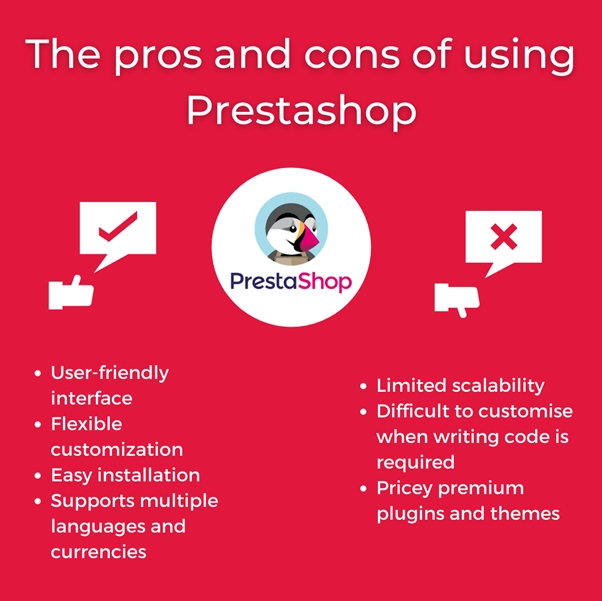 WooCommerce: flexibility tailored to the 21st century needs
As part of the WordPress family, WooCommerce offers incredible levels of flexibility, offering thousands of features other e-commerce platforms simply do not offer. It is an open-source platform, which lets you customise everything to fit your needs. Woo does not set any limits on the number of orders, users, and products. It supports international transactions, allows customers to make purchases as "guests", and enables one-click refunds, which improve customer experience and give customers greater flexibility of purchase. Being part of the WordPress ecosystem, with thousands of contributors and third party vendors, it gives you the advantage of the largest selection of free and premium plugins and themes. It can significantly reduce costs of the implementation.
Your store, your rules: tailor your shipping options and rates to your own needs
WooCommerce lets you sell both digital and physical products. It offers built-in payment processing with Stripe and PayPal, but you can customise it to accommodate various payment options, such as credit cards, bank transfers, or cash on delivery using third party extensions. Since the platform is highly flexible, you can easily set your own shipping options and rates, and tailor them to your store's needs.
While Woocommerce being "just" an extension to WordPress is often mentioned as its downside when compared with other platforms developed strictly as e-commerce solutions, in many cases it actually is an advantage. There is probably no other platform which will allow you to combine rich CMS features with e-commerce in equally seamless manner. Since marketing in the e-commerce world is largely based on content marketing, it's something which should not be underestimated.
In addition to that, WordPress as a content management framework combined with WooCommerce is usually much better suited for publishers, subscription based services, e-learning platforms and all other flavors of e-commerce. Ideal where content – either available publicly, or hidden behind a paywall plays an important role. No other open-source platform provides equal flexibility and numerous ready made solutions to this kind of e-commerce businesses.
Pros of using WooCommerce:
A robust support system
Great for SEO positioning
Numerous features and plugins available
High scalability
Extremely flexible and customizable
Suitable for e-commerce with less common business models
A large community offering support and advice
Cons of using WooCommerce
It requires a great understanding of WordPress and WooCommerce
Frequent software updates may cause problems with plugins
The premium themes and plugins are often pricey
It requires a certain understanding of web development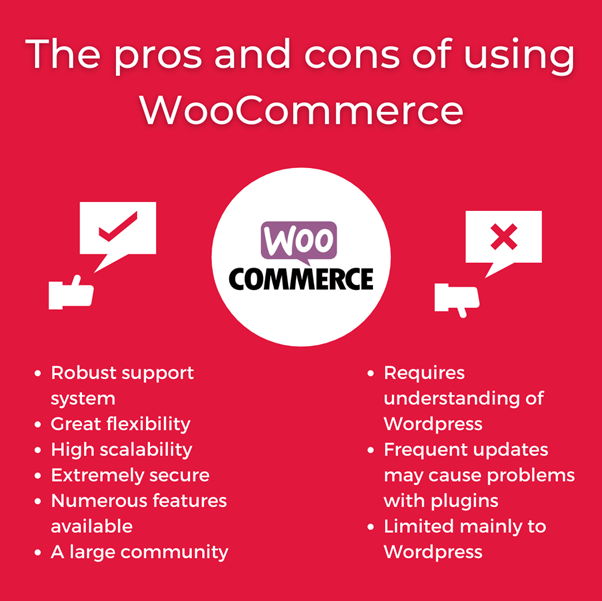 What is best for you depends on what you seek
In general, there are numerous advantages of using both Prestashop and WordPress-designed WooCommerce, and we have to closely analyse our own situation to understand, which one of them serves our purposes best. If we already have a great understanding of WordPress and plan on scaling our business quickly, or have a more complicated business model requiring high levels of e-commerce flow customization, WooCommerce might be our best bet. Small and medium business owners focusing on selling typical merchandise, who seek an easy-to-navigate and highly customizable e-commerce platform that supports many languages and currencies, may find Prestashop a more appealing option. It all depends on our business' nature, and direction, in which we want to take it. Analyse your situation carefully to decide which option best suits your needs.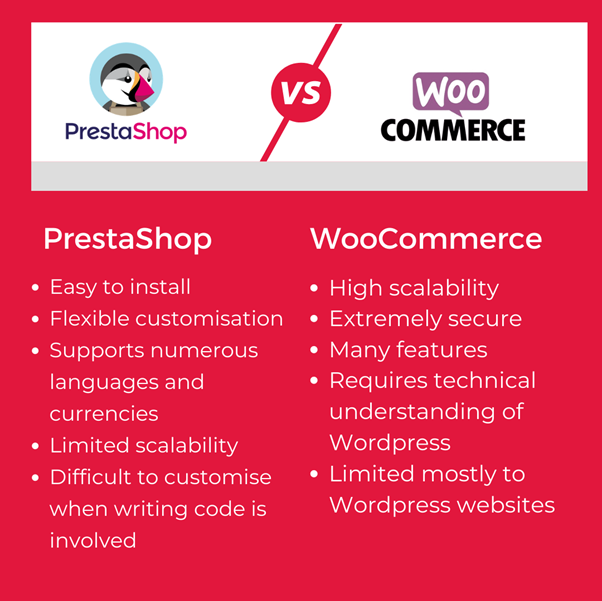 If you need help building your digital empire, do not hesitate to drop us a line: we are here to support you on your path to digital greatness!