Category: WooCommerce / WordPress
WordPress events plugins – supporting better event management (ticketing, venues, calendar and more)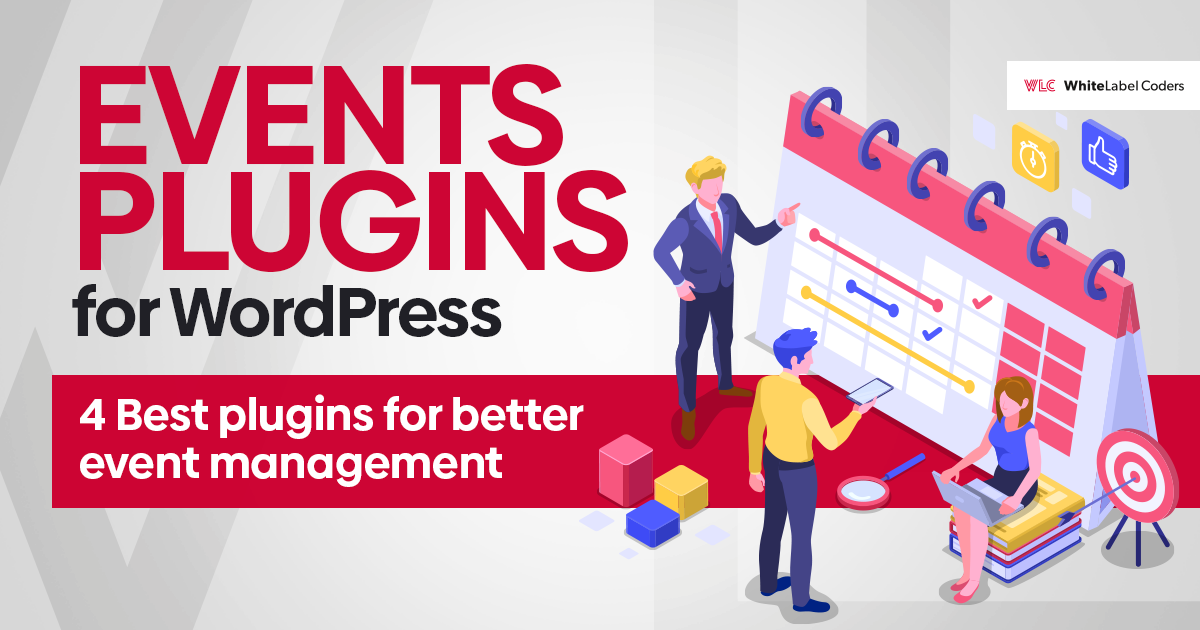 With global restrictions on in-person gatherings mainly caused by the COVID-19 pandemic, event organizers have had to find a way to move their meetings and social gatherings online. We all know the leading online meeting platforms such as Google, Zoom, and Microsoft. But what if you plan to promote your event or you begin offering regular events such as courses, training, or conferences including networking possibilities. What would you use? You have the option to use your own website, provided that it is built on WordPress. This article will help you choose the best WordPress events plugins.
Events are a great way to promote your brand as you can come closer to your audience by engaging with them. Events also help to showcase your products or services. Promote your event, enable social media engagement, add some content marketing, and there you go, with a powerful tool to drive sales.
We have chosen 4 best WordPress events plugins to discuss here:
Events Manager
Modern Events Calendar
The Events Calendar
WP Amelia
Why host an online event?
While hosting an online event, you may encounter many challenges. The most popular are: the time zone (usually, online events attract people from all over the world), technical issues (not everyone gets the link, the link is changed last minute, users' servers aren't working, or they have problems with an Internet connection, etc.). However, we strongly believe that there are many more pros than cons. Virtual events may be much better than physical ones. Here is why:
They are cost-effective. Costs of renting venues, reserving guest housing, providing food, and making travel arrangements are eliminated when you host an online event.
Participation increases. Unlike physical events, virtual events are not restricted to any geographical boundaries, remarkably increasing audience reach.
You can easily collect data about guests since they already have to type in information and register for the event.
Access to the event and materials is repeated so you won't forget much of the information.
As you can see, virtual events, when conducted properly, can bring you multiple benefits. Time to explain which plugin to use to make the most out of your WordPress site. Let's focus on the four most popular ones: WP Events Manager, Modern Events Calendar, The Events Calendar, and WP Amelia.
WordPress events plugins – Events Manager
WordPress Events Manager is a lightweight and scalable plugin that allows you to implement a full-featured event management system for virtual events. It's a fully-featured event registration management tool that includes recurring events, location management, and a calendar. It works out of the box with practically every WP theme which means you don't need to develop any custom solutions. With Events Manager, you can add, remove, and organize your event listings using the WP interface – you don't even leave the dashboard. You can easily assign event locations to each event and create custom event fields. The plugin offers typical cross-browser support for Google Chrome, Safari, Firefox, and Opera.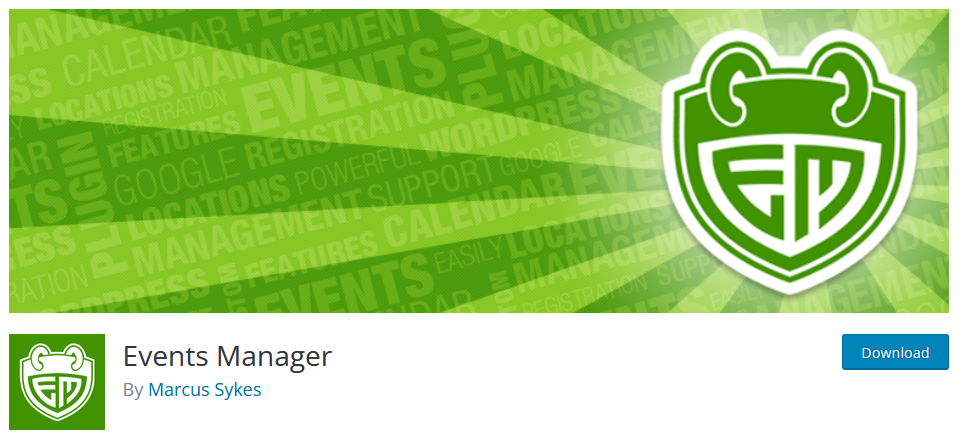 Most developers appreciate WP Events Manager because the plugin has a translation-ready codebase to help globalize event copy, as well as numerous endpoints and template files to provide deep customization to the core WP Event Manager code. There is also a debug mode to ensure that the installation always runs smoothly. On the other hand, the free version looks, to put it mildly, quite poorly. To make the most out of the plugin, you should go for the premium version that adds automated email reminders, coupon management, integration with PayPal, and customizable booking forms.
Events Manager – pros
It's compatible with all devices and most add-ons. You can integrate it with Multisite, BuddyPress, and iCal.
You can submit listings from both the front-end and back-end of the site.
It's easy to use and configure.
It allows the creation of online Zoom events (including recurring ones).
Customization doesn't alter the original template.
It's SEO friendly.
You can manage the events from the mobile app.
Orders can be exported to CSV.
Outstanding support (customized support for Pro users).
The Pro version also offers integration with the WooCommerce platform.
Events Manager – cons
It requires paid add-ons for certain features.
Styling is limited which is frustrating for developers.
It needs an annual renewal of add-ons to get updates and support.
The plugin is perfect for those who want to display their events regardless of their technical skills like admins of social groups, fitness trainers, sellers of concert tickets, etc. Events Manager is a good choice for businesses that don't want to spend much money right from the start of their virtual events.
WordPress events plugins – Modern Event Calendar
A leading freemium plugin that concentrates on making online events easy to find by search engines. It allows events to display in the local time of your site visitors which is amazing from the visitor's perspective. Modern Event Calendar has been designed to deliver a selection of useful features and a well-designed user experience. No matter if you just want to add basic events publishing functionality to your site or have more demanding needs, Modern Event Calendar will probably meet your requirements. It has options for displaying events in a range of different formats, as well as detailed settings for configuring exactly how your events and calendars work and look. It is possible to create single-day, multi-day, and recurring events. You can easily implement an online booking system and sell tickets from your WP website (the paid version). Both the free and paid versions are feature-packed.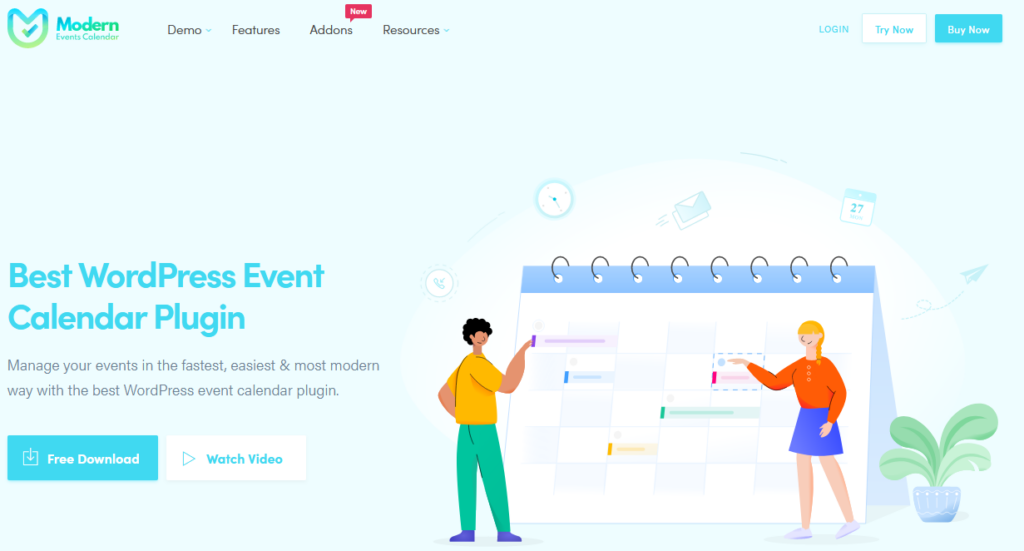 Modern Events Calendar – pros
You can publish front-end submission forms on your site that allows you and your visitors to submit the event details. Publishing the front-end forms is quick and simple.
You can add a location and organizer to each event you create.
The plugin is easy to integrate with Google Calendar, iCal Facebook, MeetUp, etc., in just a few clicks.
It enables online booking and helps you sell tickets on your site (there are payment gateways, custom fields, ticket types, etc.).
You can share events on social media.
Easy to integrate with WooCommerce, Campaign Monitor, Mailchimp, and BuddyPress.
It has a growing list of view layouts: calendar view, list view, grid view, modal single view, slider view, timetable view, coder view, countdown view, and more.
SEO-friendly.
Built-in CSS editor.
Fully customizable for developers.
Modern Events Calendar – cons
Sometimes, compatibility issues occur.
WordPress removed the free version on May 11, 2022.
Integration with Elementor is only available when you purchase additional add-ons.
It is one of the most powerful WP event platforms. It's recommendable for those who don't mind spending some cash and investing in high-quality software, like businesses that host mass events.
WordPress events plugins – The Events Calendar
It's the most widely installed WordPress event plugin backed by an impressive catalog of add-ons that make the plugin very flexible. One of the most newly released add-ons to the Events Calendar is Virtual Events which can connect to a Zoom account. The tool itself is user-friendly and easy to use – you just install the plugin, configure the options, and that's it! You can centrally manage and display events on your WordPress site. It is also possible to list events by category, add custom labels and locations, and show past and future events. When you go for the pro version, you can add recurring events, extra views, and widgets. Also, you can sell tickets and manage online bookings. You can integrate the plugin with WooCommerce and Easy Digital Downloads.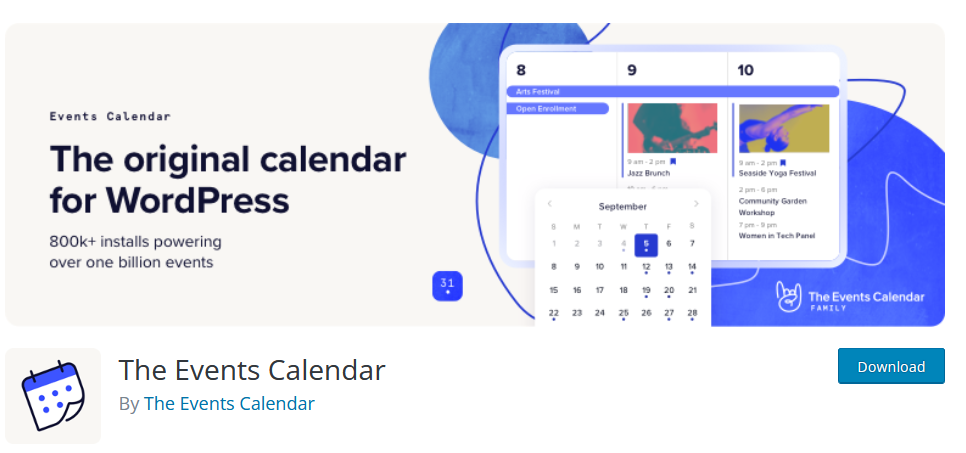 The Events Calendar – pros
The plugin is easy to use and quick to launch – you can add the plugin as easily as a widget.
It works with all the major frameworks such as Genesis, WooThemes, Thesis, and Avada.
It's SEO-optimized.
You can integrate it with Google Maps, Google Calendar, and iCal.
You can use REST API to create SPA apps.
Debugging options for developers.
YouTube streaming option possible.
Multiple languages and extensive libraries.
QR codes for event scanning.
Shortcode.
Multiple payment options (PayPal, Stripe).
Event subscribing (paid version).
The Events Calendar – cons
You can only add one calendar to your site.
Customized support is only available in the premium version.
The plugin is not compatible with Full Site Editing.
Rusty interface in the panel.
The plugin is mostly recommended to small and medium enterprises where budgets are tight, but the quality is of the utmost importance. The interface is attractive enough to launch the live version of the event. The plugin is popular in US universities that host many online events and need a simple, yet effective online booking system.
WordPress events plugins – WP Amelia
WP Amelia is an enterprise-level WP appointment booking plugin with a wide variety of advanced features and simplified functions. It makes online booking a simple process, as opposed to the conventional methods that involve a lot of filling out forms. The plugin is user-friendly and suitable for many different types of business websites. Amelia automates most of the tasks involved with booking systems – for example, it automatically synchronizes the appointments made by your customers with your Google Calendar.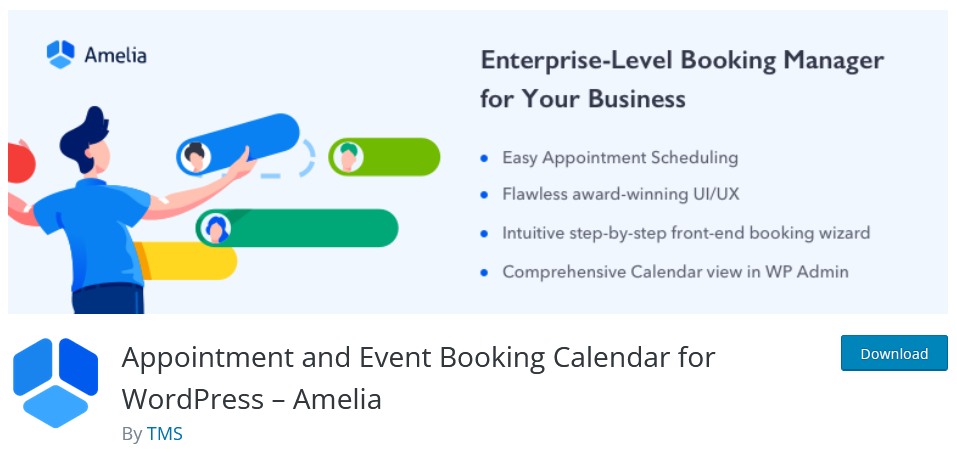 WP Amelia – pros
The plugin has a beginner-friendly dashboard.
You can create different booking systems – for gyms, private clinics, coaching centers, law consultants, service centers, and other service-based sites.
It's integrated with WooCommerce which makes it easy to process payments using PayPal or Stripe.
It's synced with Google Calendar, MeetUp, Zoom, and Outlook.
You get support for group appointment bookings.
It has a beautiful dashboard design.
Shortcodes.
Different user roles.
Analytics panel.
SMS and email notifications, coupons.
WP Amelia – cons
It has limited features in the free plan.
This plugin is used by industry leaders like SitePoint or HubSpot. It has been designed for advanced users with complex requirements who don't want to include developers in the process but still achieve amazing results.
Choose the right event platform for WordPress
You can use each of the above-mentioned plugins to create an amazing event platform. If you want to make the most out of it, the plugin must be integrable with extensions like BuddyPress, Zoom, YouTube, and WooCommerce. To provide users with a great UX, integrate your platform with online calendars and multiple payment solutions. When you add it all, you have a ready recipe for a successful business. WordPress is as powerful as the plugins that make it full of potential. Are you ready to try it yourself? See how we develop WordPress plugins.