Category: E-Commerce
E-commerce. WordPress or Magento?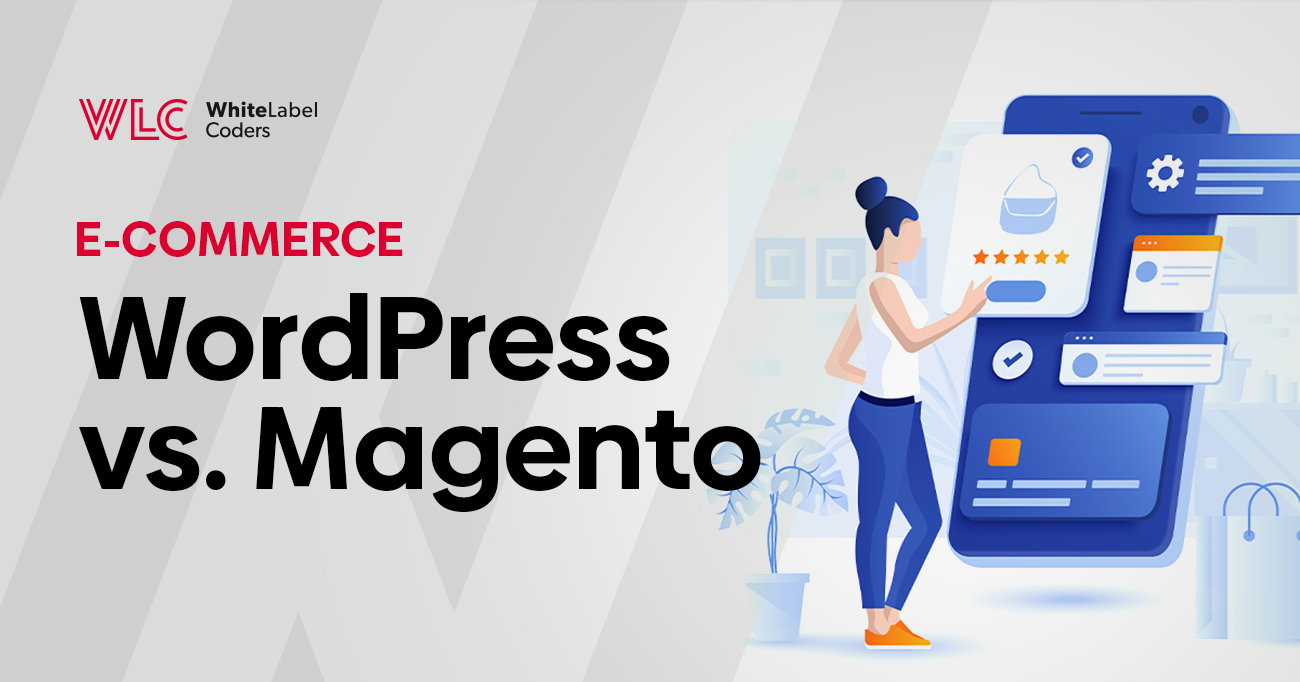 Everyone may be a little overwhelmed when starting a website with eCommerce functionalities because of the variety of options available on the market. There are two main competitors in the open source world: WordPress (with WooCommerce plug-in) and Magento. As a matter of fact, WooCommerce has a 22% share in all eCommerce web-solutions, while Magento has "only" 12%.
WordPress vs. Magento.
They are e-commerce platforms. Not only are both SEO friendly, customizable with plenty of themes, and have strong online support communities, but they are also content management systems that allow adding, modifying, and managing content in the easiest and most effective way possible.
Magento and WordPress are powerful, scalable, open-source software for the development of websites and webshops. Both have free versions, but also offer more sophisticated, but fee-based functionalities (Magento Commerce version, or additional paid plugins enhancing WooCommerce capabilities).
We might assume that WordPress is more content-oriented, while Magento is developed exclusively for eCommerce. Would that be correct?
Which is better for eCommerce?
Many of us would think that Magento is typical eCommerce solution while WordPress is mainly for blogs. You couldn't be more wrong. Let us have a short overview of these two platforms, taking a closer look at their pros and cons.
WordPress
WordPress is basically a user-friendly, open-source content management system and online platform. It is the most popular CMS. According to W3Techs report see here 39% of all websites globally are based on WordPress.
It has easy-to-embed plug-in and theme architecture. The eCommerce functionalities in WordPress can be implemented through various third-party plug-ins, such as WooCommerce, or WP EasyCart, Shopping Cart and eCommerce Store plug-ins. We will describe WooCommerce later on in this article.
WP Pros
WordPress was not developed for eCommerce, but thanks to various and sophisticated plugins it allows the creation of any webshop that also has content management functionalities.
Depending on the hosting, WordPress software, plug-ins, and themes are installed automatically and require no special technical knowledge.
WP Cons
eCommerce functionalities are not integrated into WordPress. And although WordPress offers an infinite number of functionalities, many of them must be installed separately as they are not a core functionality of WooCommerce. This means the platform may not be the best suited choice for the most complex and demanding implementations.
Magento
Magento is also an open source technology designed for high customizability. It is primarily an eCommerce platform that offers many dedicated eCommerce functionalities and rich features used by tens of thousands of shop owners, from small webshops to multinational corporations.
Magento offers multi-store management, mobile commerce, marketing, report generation, and other essential management tools. Its interface facilitates the development of complex content pages and menus. It's internal architecture is more suited for complex integrations (ERP, logistics, etc.)
There are two Magento editions:
The Commerce edition. The paid, customised solution with performance and scalability for fast-growing and large companies.
The Open Source edition. The open-source, free solution for developers who are familiar with Magento.
However, we can't forget that Magento might be difficult to configure for SEO purposes and may require additional services from Magento SEO companies, if search engine optimization is a priority.
Magento Pros
eCommerce functionalities are integrated into Magento and include a variety of useful options for sales, inventory, bookkeeping, and reporting.
It is a powerful and scalable platform that supports large webshops and helps smaller shops grow.
Magento Cons
Magento is not very beginner-friendly. Firstly, it requires advanced code skills to be comfortable with, as well as the in-depth platform expertise.It's so powerful thanks to the numerous built-in and configurable features, but embracing its full potential can be hard even for an expert-level developer who had no previous experience with this particular platform.
Secondly, the need for technical and design support can make Magento an expensive solution.
The choice between WordPress and Magento depends on the type and size of the webshop and the products or services offered. The functionalities of Magento are well suited for eCommerce, but starting and managing the shop requires much more knowledge, skills, and money than WordPress.
On the other hand, the functionalities of WordPress eCommerce plugins are limited. However, these limitations more often touch large scale projects that are more complex and diverse in nature, such as corporate online shops. They might need different shipping options, multiple payment gateways, serve multiple markets with different currencies, languages, and tax rules, etc. While WordPress could easily handle any of these challenges individualy, they might become too complex, slow and hard to maintain, if you keep adding too many plugins to meet all the business needs and dependencies.
In turn, majority of Magento Admin Panel is dedicated to eCommerce functionalities and not so much to content marketing. A great way to draw traffic to the Magento shop is to connect it to a WordPress blog with the Fishpig WordPress integration tool, which allows to tell potential customers about products and the webshop itself.
WooCommerce – a powerful WordPress plug-in.
Since WordPress was not originally meant to be used for eCommerce platforms a WooCommerce plug-in was created. How does that add up to WordPress functionalities vs Magento eCommerce solutions? Both platforms are powerful when it comes to variety of eCommerce features. And both are very popular.
WooCommerce
WooCommerce is a powerful plug-in designed to add eCommerce functionalities to any WordPress based website while maintaining the ease-of-use of the parent platform. And it's free.
The platform is also a very familiar option for most WordPress users, as it is home for almost 400 000 webshops. Not only does it have all the functionalities necessary to start a webshop, but also countless advanced options offered through free and paid plugins. WooCommerce:
supports an unlimited number of products;
has an extension system based on WordPress plug-in format;
handles almost any payment processor;
has limitless free and premium themes.
WooCommerce Pros
the software is free, and a complete platform setup is relatively inexpensive (there is plenty of vendors with good WordPress/WooCommerce expertise around the globe). It makes it the perfect choice for small to medium sized businesses
is easy to use if you have experience with WordPress;
it offers comprehensive documentation to its users;
WooCommerce Cons
you have to learn it, if you have not used WordPress;
premium themes and extension costs can add up very quickly;
might not be the right choice for the most demanding implementations.
The choice between WooCommerce and Magento is not easy. This is all the more true as none of the platforms perfectly meets the needs of the user when taking into consideration various criteria such as product management, available options, performance, security, overall budget, and of course the individual needs of the webshop owner.
But when we judge the battle between WooCommerce and Magento, we should keep this in mind:
WooCommerce is easier for users, especially if they are familiar with WordPress.
The platform has an extensive library of free or premium themes and extensions.
WooCommerce is inexpensive to set up; what depends, of course, on the size and functionalities of the webshop.
Magento is the more efficient alternative when it comes to eCommerce solutions, but it is also more complex and requires the expertise and professional support, which can be quite expensive. At the top tier of e-commerce business complexity a paid version of Magento Commerce serves as a competitor of fully commercial platforms like IBM WebSphere, or SAP Hybris.
WordPress and WooCommerce are constantly evolving and surely they will be able to offer better eCommerce solutions and easier-to-use management tools in the near future. It will for sure remain the best solution for all businesses requiring higher customizability than popular SaaS e-commerce platforms.