Category: Business Insights / WordPress
Best WordPress LMS plugin for your e-learning platform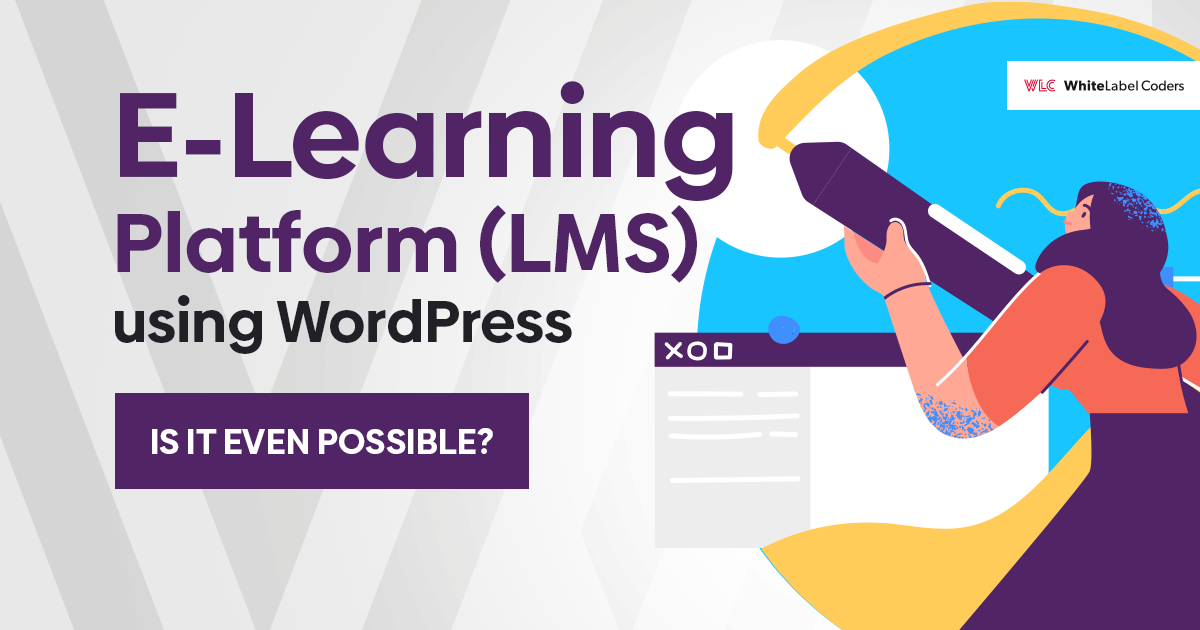 E-learning became a key in teaching. If you are a member of the coaching, training, or educational community, you know what it means. E-learning platforms make the entire process much easier for you. WordPress-based websites work especially effectively. So, why not take advantage of their strengths? See which WordPress LMS plugin is best for you.
WordPress has many benefits, and that is why it is becoming increasingly popular among teachers. The system runs smoothly, ensures data security, and most importantly provides versatility and flexibility. As the White Label Coders team, we have been creating WordPress websites for many years, so we can confirm these profits.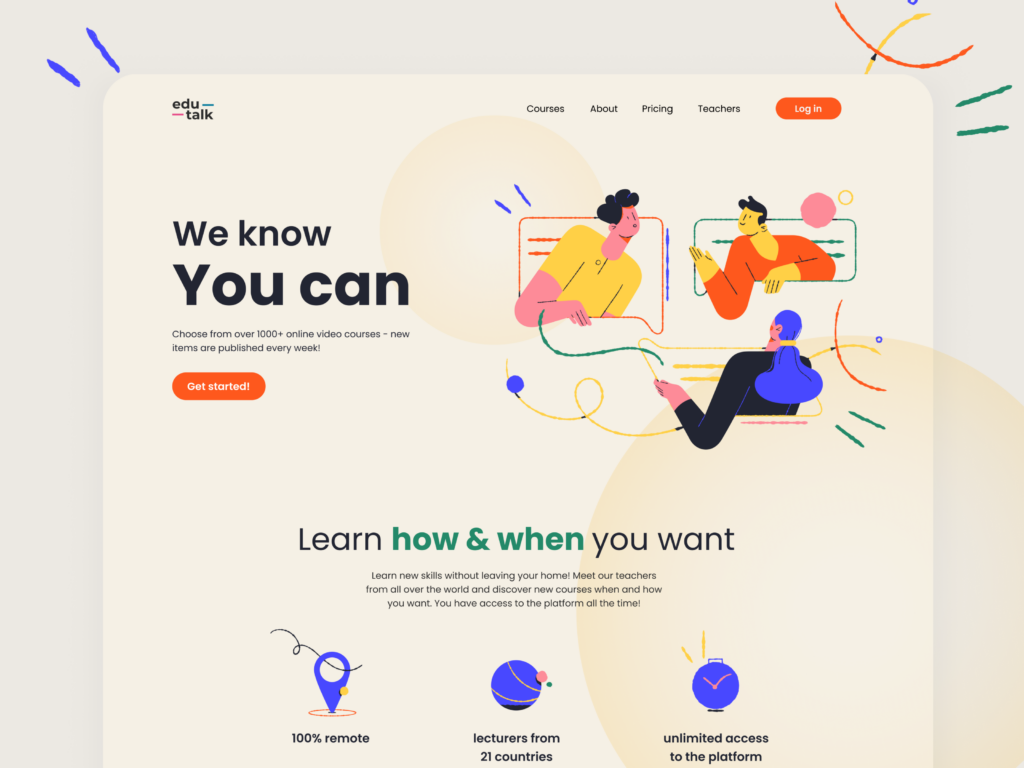 We have found many different WordPress implementations that only prove how versatile this platform is. Have you considered using WordPress for your online efforts? We would like to show you some examples of WordPress implementation in e-learning platforms, which may help you decide. You have an option to share your knowledge by services described below, although doing it with your tool designed specifically from scratch for your needs is also an alternative. But that is a topic for another discussion.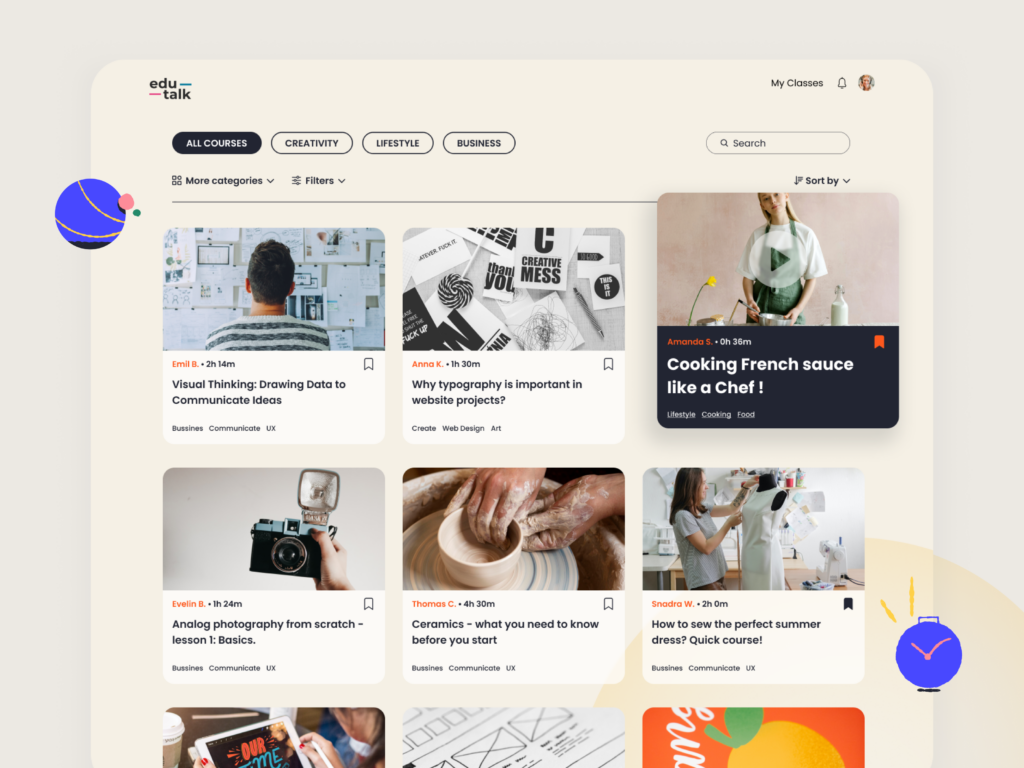 LearnDash – a flexible WordPress e-learning plugin for academic institutions and solo creators
LearnDash is one of the best plugins prepared to make teaching easier and more effective. The structure of the LearnDash environment optimizes training to maximize content delivery and consequently student's performance. Individual topics form successive lessons, these lessons go into sections, and sections form the entire course. This way is simple. LearnDash as the e-learning plugin has thousands of supporters all around the world.
When it comes to WordPress LMS plugin mentioned above, it is just outstanding. Thanks to the plugin, you can build your course in a course builder, which is very simple and intuitive. It makes the whole creation fast, so you do not have to spend a lot of time putting your ideas into practice. Additionally, at your disposal you have advanced tools prepared to generate learning support quizzes, customize a lesson progression, or set prerequisites to move on.
There are three pricing options. LearnDash costs $159, $189 or $329 billed annually. These variants differ in the number of site licenses. They guarantee 1, 10 or 25 deployments, respectively. It makes it possible for you to choose the version that suits your financial capabilities. Either way, you get to use the extremely practical e-learning platform for everyone.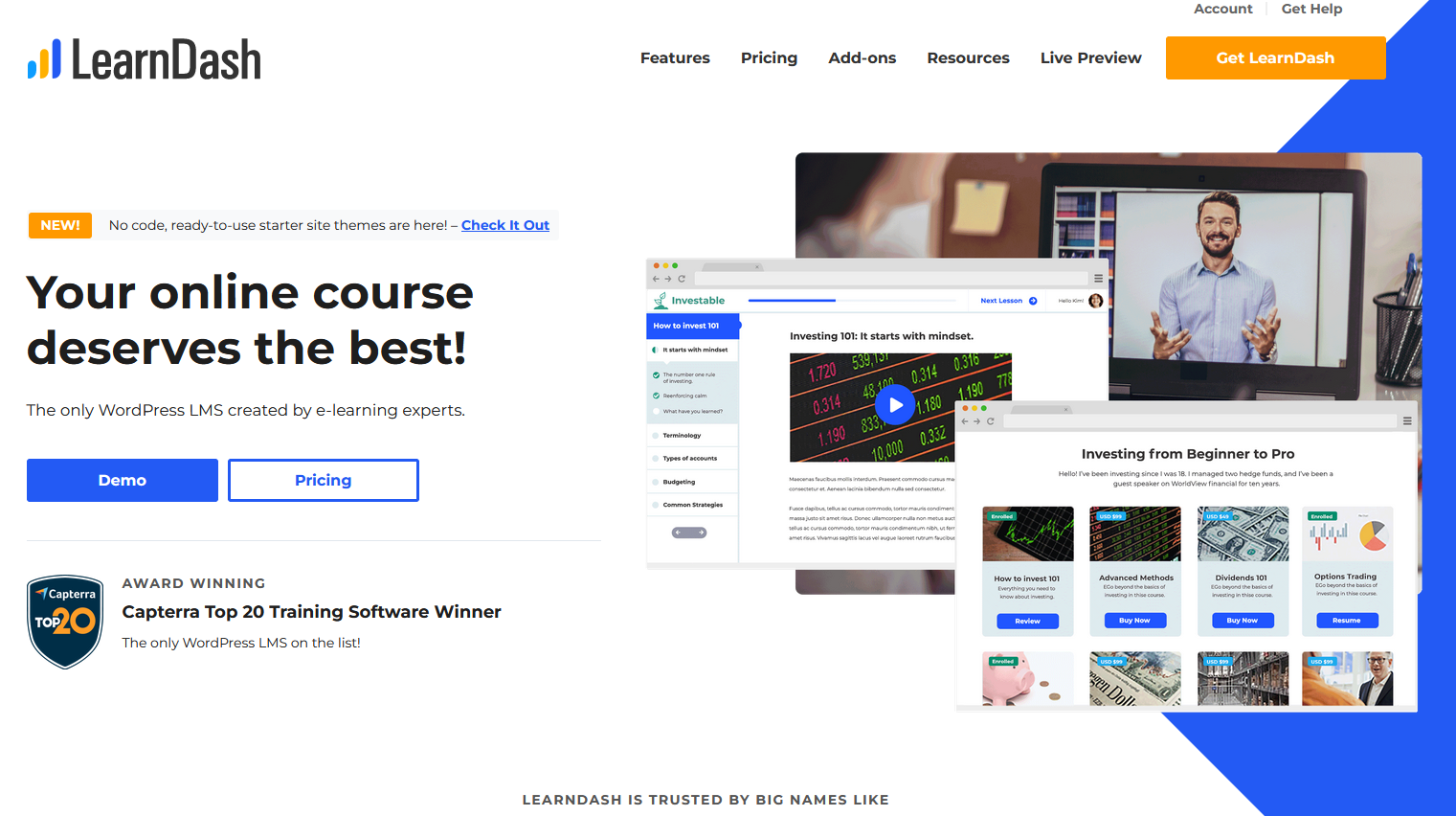 Teachable – a powerful e-learning courses builder for everyone who wants to teach
Teachable is not a plugin but it is worth mentioning here. It is an online course builder with a complete set of tools designed to help you make your knowledge available to people around the world. Admittedly, it is not as advanced as LearnDash, but it works perfectly well. Teachable is used by individual users, schools, and training agencies, which shows what a great solution it is.
In addition to the features designed to build courses, through Teachable you can apply some marketing settings supporting sales. With them, you can reach out to customers and analyze data more easily. The WordPress e-learning platform allows you to handle any number of students and get to an ever-wider audience with lessons.
Teachable does not work as a WordPress plugin. In practice, this means you must implement it as a subdomain or add a link to your website. However, it is not a huge problem, so the online course builder is still worth your attention.
As I mentioned above, Teachable is less advanced than LearnDash, it focuses more on reaching new learners and earning from courses – hence the mass of marketing settings. In this respect, it works great. However, in terms of lesson creation, this tool lacks the versatility and flexibility of LearnDash. Nevertheless, you should definitely try it if you want to monetize your knowledge.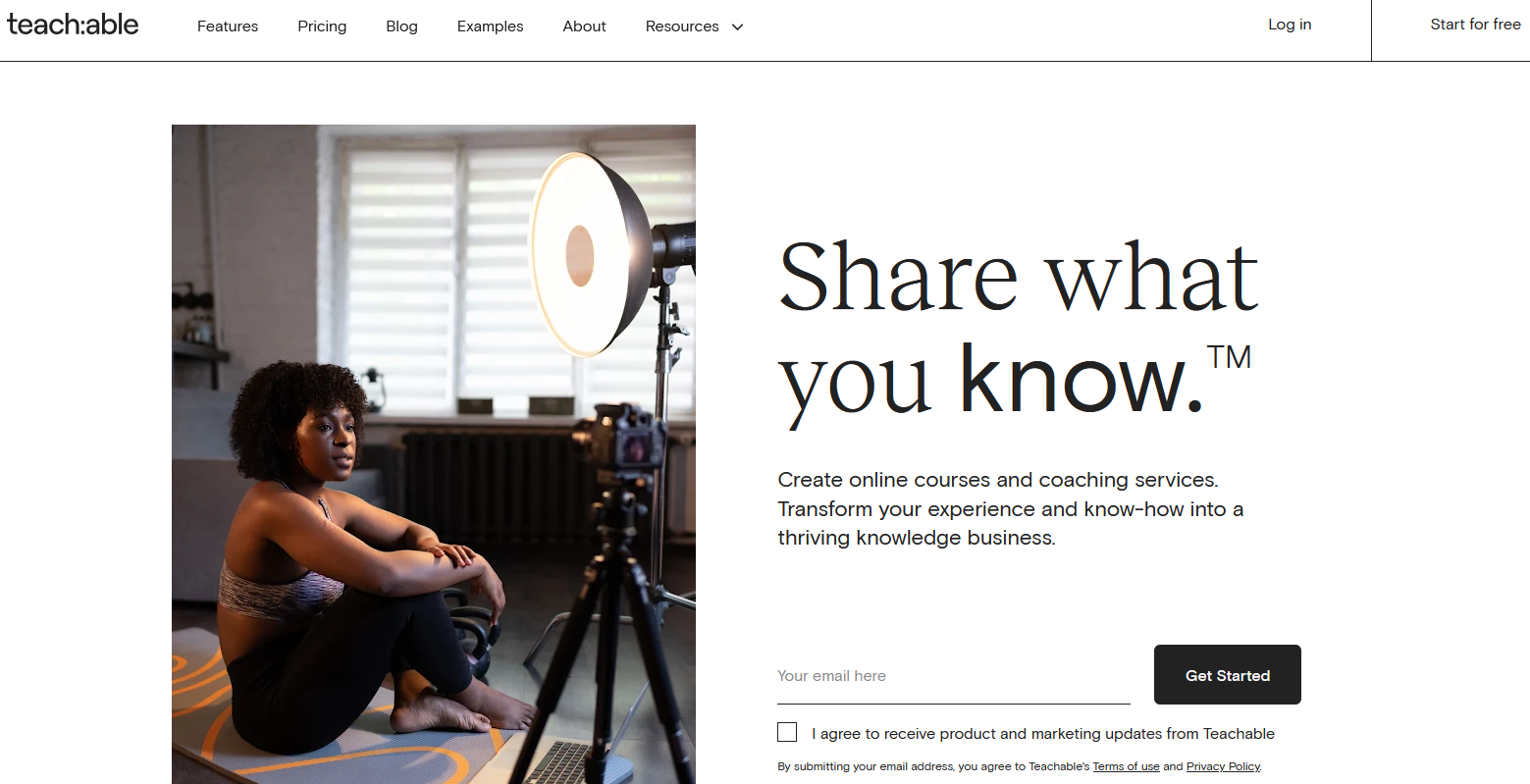 Lifter LMS – a flexible WordPress LMS plugin to make courses your own way
Lifter LMS is another WordPress plugin with a complete set of tools for creating and editing online courses. This plugin is one of the most popular and appreciated among teachers and trainers. Why? Mainly because it is extremely flexible. This means that you can do anything related to building lessons your own way without software influence. You decide what your course should look like.
The previously mentioned tools include the user-friendly builder, the system supporting sales and elements that enhance the student's learning experience such as assignments, quizzes, or automated emails. Moreover, you have access to a large community, which helps to solve problems during the next steps. These features make Lifter LMS a great solution for people who value freedom of creation.
The high-quality WordPress LMS plugin costs around $120, $360, and $1200 per year depending on chosen plan. Versions are different as to the number of active sites, tech support accounts or marketing supplements. The most expensive package additionally provides access to, for example, advanced video features, social learning, and private coaching. As you can see, there are options designed for every user regardless of their requirements.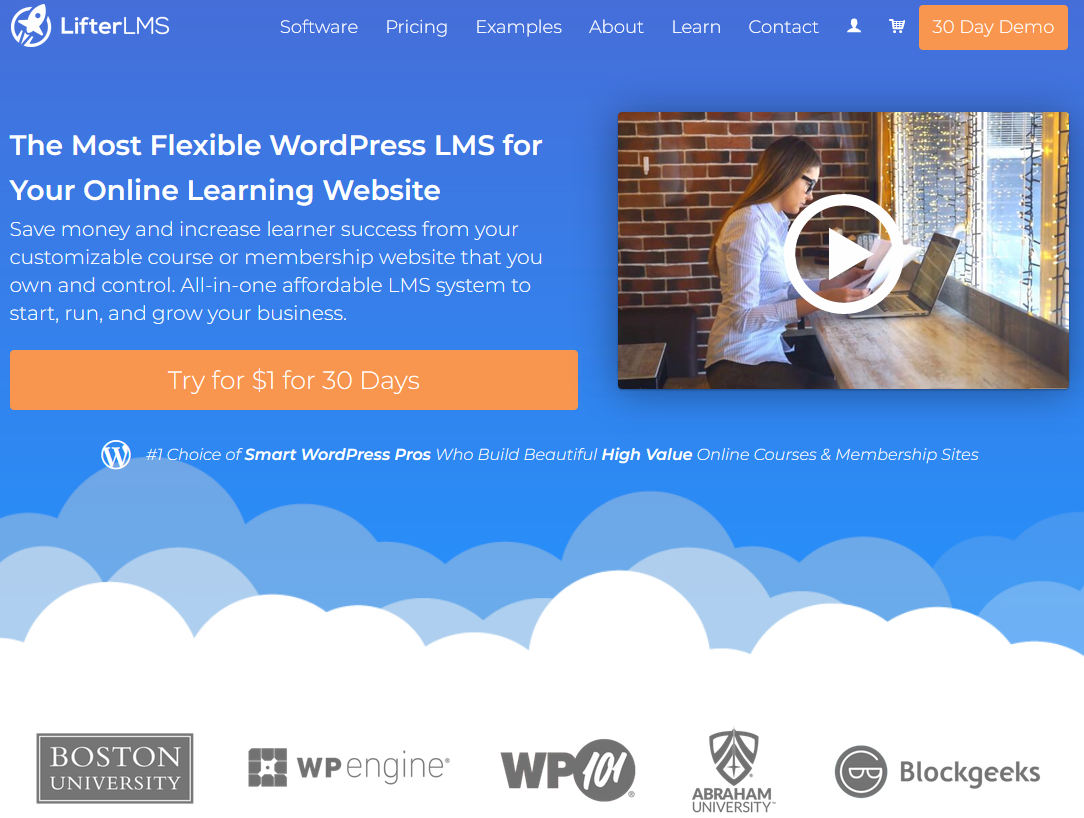 LearnPress – a free and comprehensive LMS WordPress plugin
At the end, we present LearnPress. It is a unique e-learning LMS plugin for free. There is no payment, which makes the plugin the most popular tool on the market right next to LearnDash. Thanks to LearnPress, you can easily build nice courses with interesting lessons including quizzes and questions. Setting various elements is simple, so you should have no problem using this software, even when you are inexperienced in creating online courses.
Beyond training preparation solutions, LearnPress gives you many marketing options. It is a little surprising that a free tool makes it so easy to earn money without having to buy premium packages. In addition, you can integrate a surprisingly good working mobile app with fast synchronization, which helps transport data immediately. This provides comfort for your students.
Although LearnPress is free, you have the opportunity to purchase additional enhancements. For example, you will pay for a theme and an integration of payment gateway. These costs may be a few dozen dollars, so not as much as WordPress LMS plugins described before. The quality/expense ratio is very favorable regarding LearnPress, and it is a powerful asset.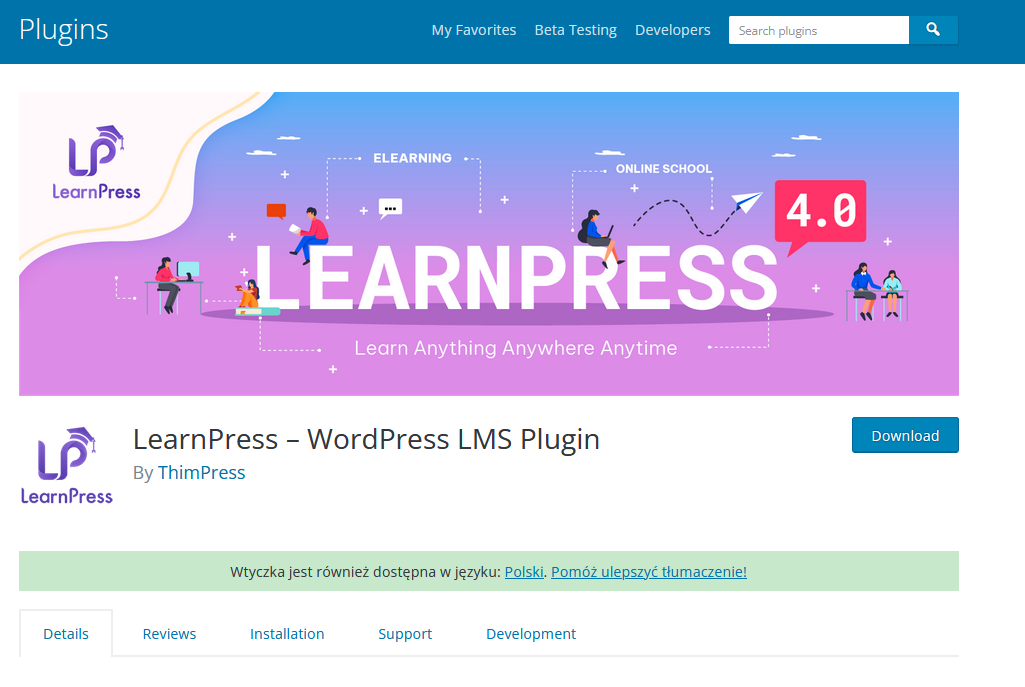 Which e-learning platform is the best? It depends on your expectations. The presented options are notable examples of the presence of WordPress in education, in its broadest sense. We strongly recommend using one of these solutions, because they make building online courses and selling them simple. Share your knowledge with people around the world with WordPress – we can help you implement any system on your website.
---