Category: E-Commerce / WordPress
The battle of content management platforms: Drupal versus WordPress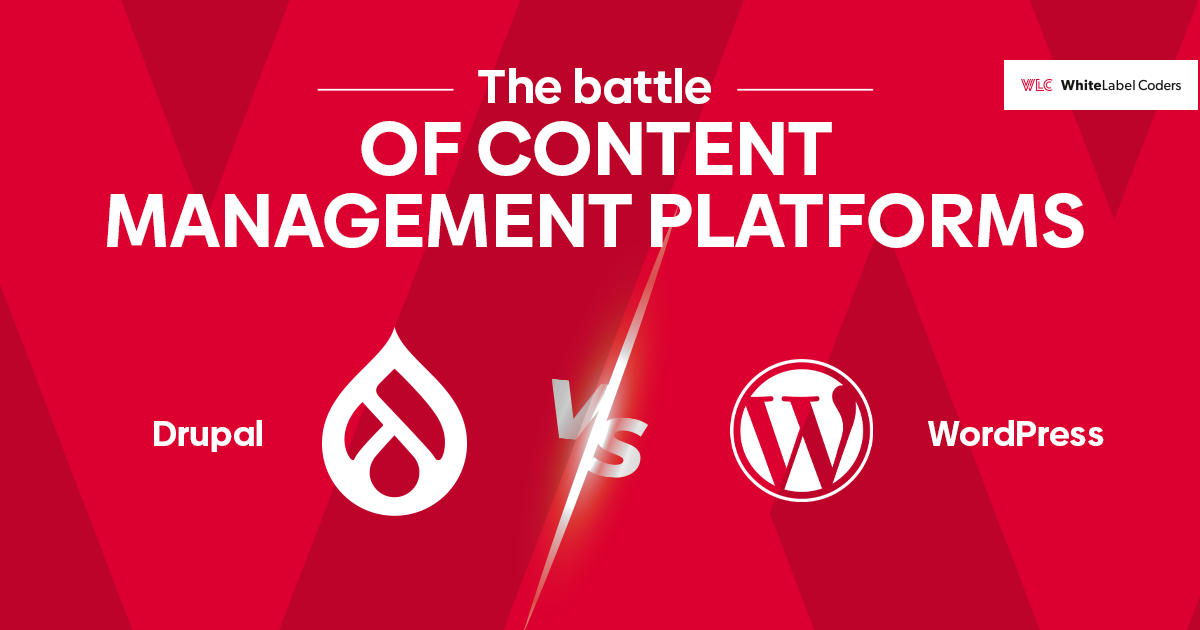 In today's digitalized world your website is one of your best assets. Therefore it is extremely important to make sure that everything runs smoothly, and your website's architecture is secure and tailored to your users' comfort. Given that content is the king, it goes without saying that choosing the best content management platform is vital for both our website and our business. There are numerous platforms, which can become home to your content, but which one is best for your purposes? To explore available options, let us focus on two popular content management platforms: Drupal and WordPress. What features do they offer, and how do they respond to different needs?
What is Drupal?
Drupal is an open-source content management software released in 2001 for the first time, and has been gaining popularity ever since. According to Statista, there were around 1,1 million websites created with Drupal, including such big names as BBC, NBC, MTV UK, or the University of Oxford. What's more, it has a community of more than 1,000,000 people centered around the platform, Drupal remains one of the industry's giants, although it is used by approximately 1.5% of all websites. What features does Drupal offer?
Drupal — an open-source CMS platform with 20 years of experience
The platform claims to offer "ambitious features, for ambitious needs" and support both simple and complex projects with secure architecture. Additionally, Drupal gives us access to a multichannel ecosystem, which allows us to create, monitor, and personalize content to best fit our audience's needs. Designed for scaling performance and helping websites perform well under extreme pressure. Drupal powers websites for Grammy Awards and NBC Olympics. The company's goal is to ensure uptime and eliminate performance issues before they result in downtime, which costs companies money and customers. Equipped with a variety of tools for marketing automation, personalization, and accessibility, Drupal supports multilingual translation for all its websites for higher conversations, a wider audience, and boosted SEO ratings. What are the pros and cons of using Drupal?
Pros of using Drupal
Designed with development good practices on mind,
Suitable for complex implementations (far beyond typical CMS functionality)
Open-soure
Easily scalable
Designed for accessibility
Multilingual content translation
Large community
Built-in performance features
Easily editable
Cons of using Drupal
steep learning curve (it takes time to learn the system!)
requires a deep understanding of technology
complex architecture
resource-intensive
not intuitive to use
a limited number of themes and modules (compared to WordPress!)
good Drupal developers are hard to find and expensive
WordPress — the industry's unquestionable giant
WordPress is an absolute industry giant, as it is used by approximately 41.1% of all websites. Created in 2003, it has become the content management platform most websites use. Spotify, IBM, TIME, and Variety run on WordPress but given the platform's enormous market share, it is safe to say that most of our favorite websites are probably powered by WordPress. Additionally, with numerous ready-made themes available and endless customization possibilities, WordPress continues to enjoy enormous popularity in all industries. Since it allows people to quickly build highly responsive websites.
What's more, the platform's main features center around intuitive storytelling and community-building. As well as the access to website statistics, SEO tools in place, and built-in social sharing. Therefore WordPress makes it easier to create content, which organically drives traffic and boosts engagement. The platform is popular for its extremely intuitive interface and an enormous library of themes and plugins, which is why it is often a good recommendation for beginners and non-technical people.
Pros of using WordPress
easy to use and manage
highly customizable
relatively easy to learn
an extremely large community
a well-developed ecosystem
multipurpose and versatile
an enormous library of plugins and themes
great for fast prototyping
large number of developers due to its popularity
Cons of using WordPress
software architecture below the best standards (constantly improving)
frequent updates lead to performance problems
constantly targeted by hack bots, requires extra attention to make it fully secure
many features require additional plugins
slow-loading websites, (if not done by experts)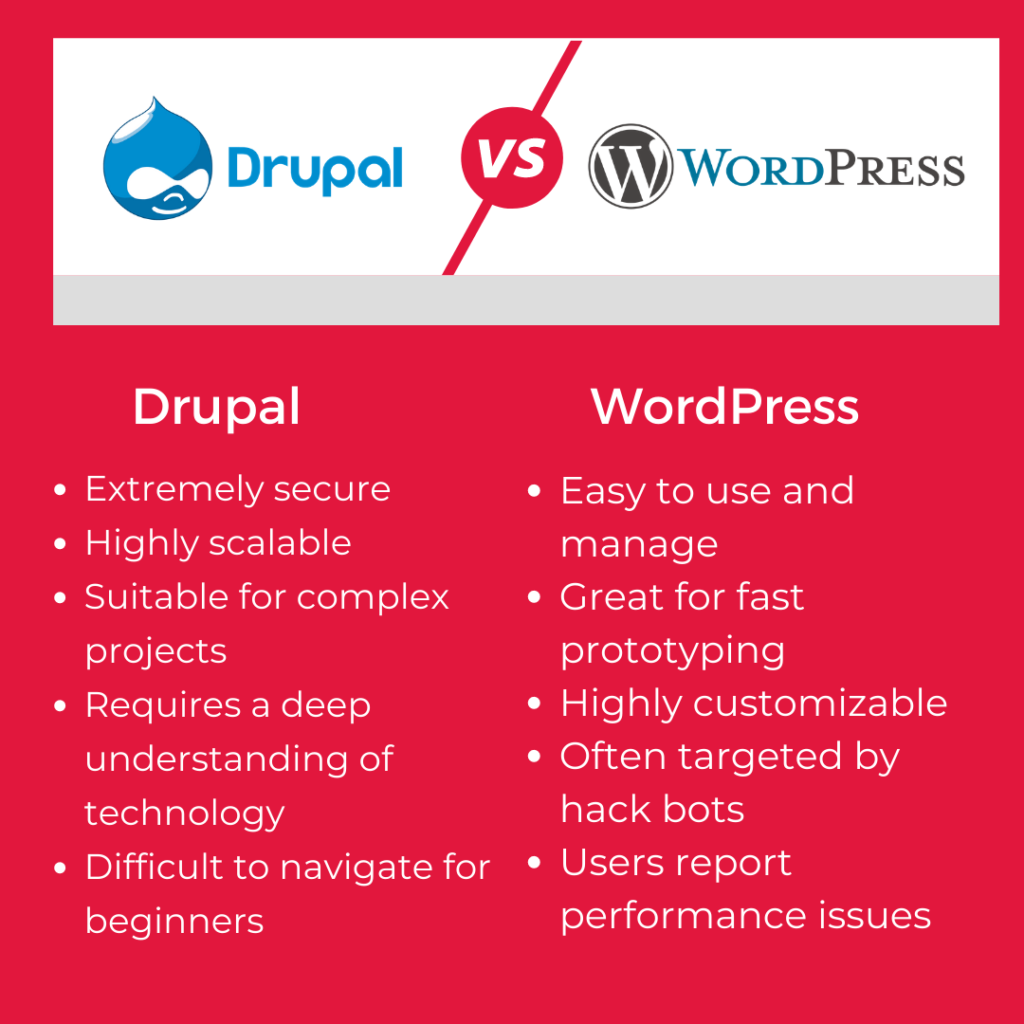 When does Drupal work best?
In general, Drupal seems to work particularly well for complex projects with highly specific functional needs, strict security requirements, and a strong focus on integrations. Drupal handles complex website scenarios, for example, when multiple user roles and languages are required. It is easily scalable. Many websites with enormous spikes in traffic (Grammy Awards, NBC Olympics) are powered by Drupal. The platform continuously monitors their performance to ensure everything is up and running, so it is a great option for businesses, which plan to quickly scale their projects. However, since Drupal's architecture is complex, and it takes a while to learn the system's inner workings, it is necessary to either hire a Drupal specialist or invest a lot of time in mastering its secrets.
When is WordPress the best option?
WordPress may be the best option when we are looking for a reliable, intuitive, highly customizable platform, which lets you quickly create prototypes and easily manageable websites. Since it is an open-source solution, it allows a fair amount of customization, and it is fairly easy to master the inner workings of WordPress since there are so many materials available online. Out of two, WordPress is definitely a more user-friendly option for beginners and non-technical people, who wish to create content. However, due to its internal architecture it may not be the option for websites with the most complex and unusual functional requirements, or which process a lot of sensitive data.
In a digital world, where content is the king, and content management platforms can either make or break our website's UX. It is important to choose a solution that will best suit our needs. Both Drupal and WordPress have many interesting features and large communities centered around them. That's why it all depends on your project's needs and characteristics. Generally, Drupal is recommended for complex, highly secure projects, while WordPress works best for content-driven websites of small and medium-sized companies. WordPress in most cases will also be the more cost-effective option.
Do you have an exciting new project coming up?