Category: E-Commerce / WooCommerce / WordPress
Future is now! Go with WooCommerce & become a leader!
The new and dynamically changing market situation is forcing many companies to redirect a significant part of their activities or even the whole business to the Internet. Because of that, digital agencies will face the challenge of carrying out many e -commerce projects in parallel. Not only there will be more and more orders for web stores; many of them may go beyond the standard frame of a simple store, depending on the complexity of the business.
Although our life will return to normal sooner or later, it does not mean that it will be the same as before the pandemic.
Many local businesses, which have not existed on the Internet before, desperately need some help with starting a new model of operation now. Digital agencies are now in the front line of serving this help. In the result it will support not only local but also the global economy. Furthermore, it is a chance for the agency to pursue some valuable and long – term projects. This is an opportunity, but also a big responsibility to help as many companies as possible. We make them walk through the digital transformation, which for many of them is a must-have in these unusual times.
Virtual purchases and services will become significantly more common forever and the time to act is now.
Due to undertaking new challenges quickly and meeting the market needs efficiently, we can all gain a competitive advantage for years. One of the easiest solutions to move the sales online is WooCommerce. That will make a profit from acquiring customers in a new, global dimension. A highly experienced and professional team, capable of meeting the requirements of even the most surprising projects, such as White Label Coders, can support your agency in case you have insufficient resources to carry out multiple projects in a short time span.
Why we think that WooCommerce is the best solution to current business needs for many local companies?
When it comes to gaining a competitive advantage quickly and effectively, people should bet on proven technologies. Pros of WooCommerce are the following: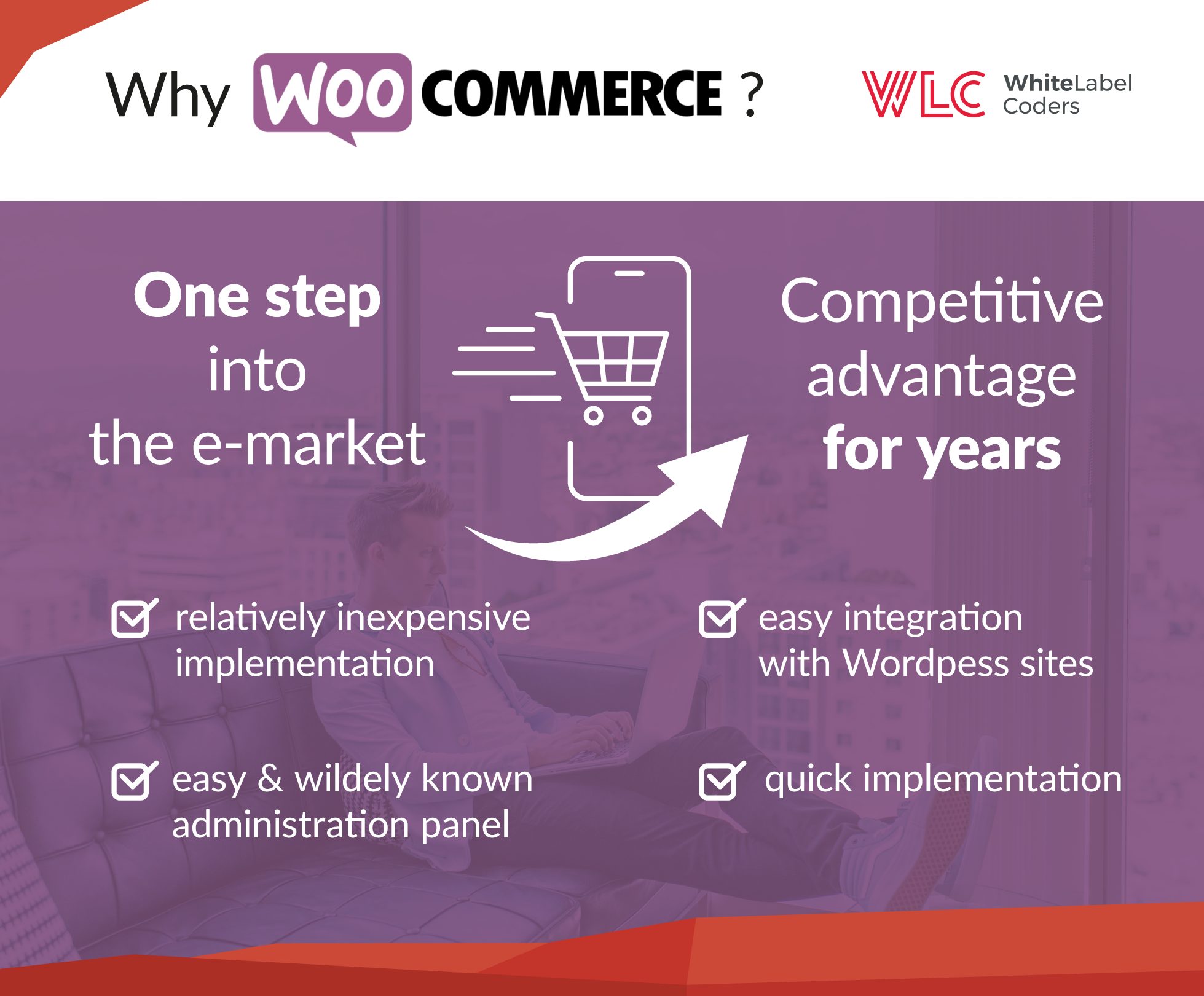 Implementation is not expensive (starting at 1500 GBP/1900 USD) when compared to other platforms.
WooCommerce administration panel is easy to use and widely known.
Time to market is a critical factor today. Implementation of a basic WooCommerce store can take about 2 – 4 weeks.
WordPress is currently the most popular platform (35% of the websites worldwide run on WordPress) and ensures great flexibility with the incredible number of ready-made free and commercial extensions and integrations.
A wide range of companies worldwide provide support for WordPress/WooCommerce implementation, so no vendor lock-in is involved.
Why to choose the White Label Coders team to support your business these days? Time is money – especially now.
So to complete all the projects quickly and efficiently the agencies will need the support of those who have experience in such implementations. First of all, we have experience in projects on various platforms e.g. Prestashop, Magento. WooCommerce is our platform of choice in many cases, as it is best suited to small and medium business needs. Some solutions seem to be more beneficial at first but they generate more trouble in the long run. They need additional work and rise costs. Having your WooCommerce platform created by the experienced white label team allows you to take care of your business in all other aspects.
Check out some of our recent projects and join the group of leaders: