Category: E-Commerce
Why You Should Choose Magento for Your E-commerce Platform?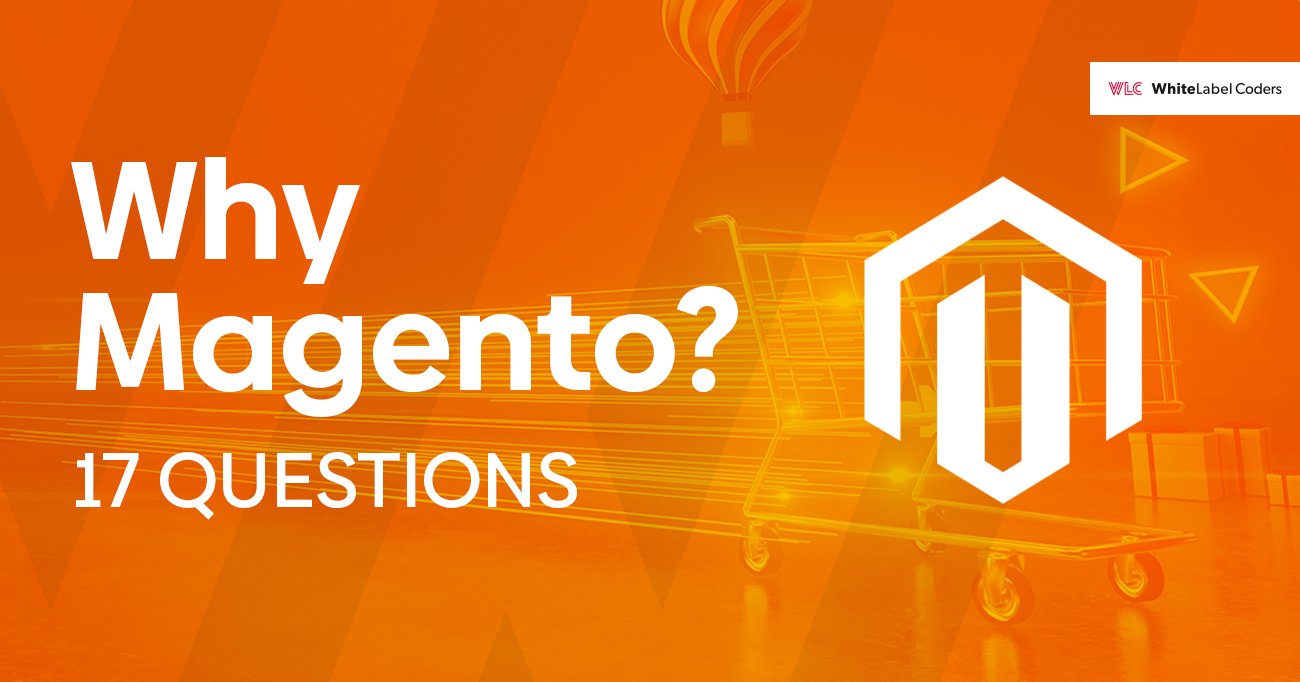 In this article, we will be providing answers to all of our most commonly asked questions about the Magento platform. Why use Magento for e-commerce.
We hope to provide the reader with enough knowledge that they can confidently make an educated decision on whether or not Magento is the right platform for them, or in other words, is Magento the best e-commerce platform.
Below you will find 17 questions with answers from our team of highly experienced e-commerce platform experts.
Let's get started.
1. Can I have several shops for one product?
From the perspective of the Magento Development Agency and different configurations, served from single back-end, yes! Magento knows that some businesses may require more than one single store front. That's why there is a great capacity to create, support, manage and even track a variety of storefronts with hundreds or thousands of products and different configurations, served from single back-end.
2. Does Magento Help with SEO?
The correct answer to this is Yes. Much like WordPress, Magento is a very SEO-friendly ecommerce platform. It comes preloaded with various SEO features such as search engine friendly URLs, sitemaps, layered navigation, URL rewrites, meta tags, descriptions and more.
3. Is Magento compatible with different payment methods?
Again, the answer is yes.
While many e-commerce platforms offer you only a limited choice of payment gateways, Magento users can enjoy a plethora of options to choose from. These include:
• PayPal
• BrainTree
• WePay
• Authorize.net
• DOTPAY
• Worldpay.com
• Credit/debit card
• More
Take advantage of Magento's wide selection of accepted payment options so you can sell to the greatest number of customers without any constraints.
4. How customizable is Magento e-commerce platform?
Magento is about as customizable as it gets!
It's important for you to really know your potential customers when they see your store, thankfully Magento helps you do that. There are many available themes for you to choose from, which can all be customized easily with your branding.
By allowing 3rd party integrations, Magento gives an online store bigger space for custom integrations. This is one of the most crucial benefits of Magento ecommerce platform that makes it the best choice for business owners of all kinds. As you probably already know, every single online store has something different to offer. Magento allows every store to be customized to its own preferences, so it can be unique in its own way. The 3rd party integrations include major web applications and payment gateways as well!
5. Is Magento scalable?
The quick answer, YES.
As your business grows, Magento grows with it. The platform has the ability to support all of your growing ecommerce needs. Beyond multiple storefronts, Magento also accommodates growth in your product database, increased network traffic, changes in pricing, multiple currencies, etc.
6. Is Magento Secure?
Yes!
At least as secure as it can be. Magento is extremely secure and rolls out regular updates to protect users against all security threats. Everybody in the business knows that there is no such thing as 100% security without taking the necessary precautions. Magento understands this and takes security very seriously with various applications available to enhance protection. But keep in mind, if you want your security to be at the highest level possible, you should make sure to implement a continuous maintenance plan. Website security is one of the most important aspects of running an e-commerce business.
7. Shopify or Magento? What is better?
Each have their own set of pros and cons.
Magento is an all-around tool for business owners. With more than 5,000 add-on's and extensions, Magento has the advantage when it comes to capabilities and flexibility. Compare this the couple hundred add-ons for Shopify. Also, any ideas you come up with can often be integrated into your store with affordable extensions supported by Magento. Want to add custom coupon, error messages or a variety of employee logins with different permissions? There is no problem to do it in Magento, even if you are not familiar with coding. The possibilities with Magento are endless.
• Open code
• Possibility of any extension
• Independence from the supplier
• Support for b2b
Shopify, on the other hand, offers lower costs and simpler implementation. With this comes a dependence on a closed platform and less expansion possibilities. All of this may be more attractive to you depending on your business and its unique needs.
• simple implementation
• lower costs
• dependence on closed platform
• less expansion possibilities
8. Will Magento integrate third-party services?
Yes! Magento allows users to easily integrate any third-party extensions, applications and additional plug-ins to optimize our e-commerce store.
This unique feature is availability of an API which allows external integrations to be implemented without you having to write a single line of code on side of Magento.
9. Is there analytics and reporting with Magento?
Yes, there absolutely is!
Magento offers users the ability to seamlessly integrate useful tools like Google Analytics and Google base. Tools like these can be used to help you actively keep track of your online customers and market to them in a way that is effective and powerful.
10. Does Magento have community support?
Yes. Magento has one of the best communities in the entire industry. It's huge, global community of developers working together to share new tips and tricks, discuss updates and help each other through technical support issues.
Keep in mind that eBay, the e-commerce empire, is responsible for the development of the Magento platform.
11. Magento currencies, languages, and geographical constraints?
Magento supports all currencies!
Most of the popular open source ecommerce platforms on the market have little to no options when it comes to foreign currencies. However, Magento can dynamically support all currencies all around the world. This makes it extremely efficient for US stores and international sellers to use Magento as their ecommerce platform. Magento also supports a variety of languages.
Magento has no geographical constraints, supports all languages.
Language and currency are two considerable factors when an ecommerce website caters to a wide geographical audience. Magento with its unique features blur these boundaries and one can shop from almost any corner of world using any currency option they choose.
Magento allows you to apply different tax rates to different states or countries depending on your settings. Applying custom tax rates is fast and easy with Magento.
12. Is Magento Mobile and SEO friendly?
As one of the leading ecommerce platforms, Magento is popular for staying up to date with mobile design standards, while providing advanced SEO solutions at the same time.
Mobile visitors expect to have a great, seamless experience when landing on any given website. If the website satisfies them, then they are likely to continue to browse on that web page. But, if the website is not mobile friendly, then it will hurt the users experience, resulting in the visitor leaving the website after only a short amount of time.
A website search engine optimization score will always influence the number of hits or visitors that website receives. As far as SEO goes, Magento is always up to date with the latest in SEO ranking. It can seamlessly provide users with awesome URL structure and meta-implementation options that are required for SEO. Magento can also include analytics for tracking and monitoring all web visitors. This is one of Magento's most popular and sought after features.
13. Does Magento have a fast loading score?
Yes! Magento has made it one of their core missions to create only the fastest ecommerce stores in the modern worlds. Magento is popularly known for its ability to produce web pages that look good and load super-fast.
Magento comes with multiple solutions allowing to optimize website loading times. Worth to note is that optimization itself is not an easy task and requires a lot of knowledge to achieve best results. Partnering with an experienced Magento outsourcing team is highly recommended.
As mobile devices continue to advance, more and more users are using their phones to shop. So, we understand that you need a platform that will support all of these mobile users.
There are countless extensions available to make a Magento ecommerce story, mobile-friendly. This ensures that your front and back end are pixel perfect on all mobile displays.
Let's face it, a fast loading web page should insinuate that the Magento platform was built exceptionally well and integrates lower HTTP requests than any other ecommerce platform on the market. The faster a website can load, the faster information can be sent and received between the customer and the store – this should also lead to an increase in total sales and revenues for your business.
14. Does Magento require specific hosting?
No. With Magento, no business is obligated to choose any single hosting provider. Magento gives ecommerce stores the ability to freely select the hosting company of their choice, no matter what. This gives Magento users greater freedom and allows online shopping businesses to store their own files and be selective when choosing their hosting company.
With that being said, it's important to note that Magento can be a demanding solution. Because of this, you should always choose a dedicated server (not a shared server).
15. Can you implement Magento by yourself?
Hypothetically, yes you can. With that being said, it is always best to seek the help of a specialist when setting up your commercial shop. If you are unsure of where you can find a specialist then look no further. Our company specializes in Magento and will be happy to get your shop up and running.
16. Is Magento built for sales?
While most other CMS have ecommerce functionality integrated as an add-on, Magento is different because it was built specifically with sales in mind. Because of this, when it comes to driving conversions and increasing sales, Magento is one of the best choices on the market – hands down. It's the second most popular ecommerce platform, according to ahead works.
With Magento's options for segmentation, you can specifically target customers based on their cart and buying history. Not only that, but you can provide personalized and relevant content. You will also benefit from the ability to tailor the promotions you show on your website and send custom coupons, this means that customers will only see advertisements that are related to the products they have clicked, purchased or simply added into their cart.
Magento also gives users the ability to set up product recommendations and upsells on certain product and checkout pages. With Magento, you can very easily suggest related items for your customers, essentially serving as a member of your sales team. The CMS also gives the option for one-page checkout so customers will be less likely to abandon their cart and more likely to purchase your product.
17. Should I choose Magento as White Label Service?
Magento white label web development services are the most desired services in the field of website development and design. With the sudden increase in successful, profitable Magento online stores, the need for Magento White label web development has also skyrocketed.
White-label development services are the ideal solution for those agencies who struggle to find high quality developers. Working with a white-label development company enables you to outsource the developmental aspect of your project.
By using white label development services, you will be able to build your business quickly without taking on the cost of hiring new staff members. White label development is also flexible, having an outsourced development department allows you to manage projects more effectively.
Magento developers can now opt for Magento white label services for timely delivery of products and client retention. All Magento developers and those that own a Magento development company can benefit from Magento's white label services.
The ecommerce industry is looking at a very promising future with the ongoing technological advancements we have been experiencing. Because of this, you need a platform that is built purely for the growth of your business and one which focuses on increasing your sales, simplifying your ecommerce process to deliver prompt service and enhancing customer satisfaction.
In 2016, Business News Daily recommended Magento as the single best platform for ecommerce. It further strengthens Magento's ability to support your ecommerce site and grow your sales, revenues and profits. Magento is a leader in the large e-commerce market, ahead of Oracle, IBM, and SAP (Hybris), which are all significantly more expensive to implement.
Is magento a good e-commerce platform? As the second best ecommerce platform, Magento has been developing beautiful, user friendly ecommerce websites for years. This ranking doesn't take account of the fact that Woocommerce is dedicated to smaller, less demanding implementations.
So, if you are looking to build a site that is scalable, secure, customizable, user friendly, and incredibly responsive, Magento is the platform for you.